Read more about this program on the institution's website
Program Description
The MSc in Applied Chemistry is awarded to candidates who successfully complete the academic courses and research thesis requirements of the program. The program is intended for candidates with a bachelor's degree in chemistry or other related specialization. The program's typical length is four semesters, with the first three semesters requiring the completion of a combination of course work and thesis work, and the final semester only requiring thesis work and writing. The program is designed to give candidates an opportunity to enhance their knowledge of chemistry and develop research expertise and skills in instrumentation and methodology that will prepare them for careers in applied chemistry or to pursue a doctorate degree.
Program Objectives
Develop a pool of highly-trained professionals who can utilize their acquired knowledge in applied chemistry and skills in instrumentation and methods to contribute to the technical and research expertise of their employer;
Prepare graduates with outstanding educational skills and knowledge in applied chemistry and related areas to further their career aspirations;
Prepare students with effective communication and teamwork skills in areas related to applied chemistry to function successfully in their careers;
Provide students with sufficient expertise in applied chemistry to design and develop innovative solutions to complex scientific problems in the oil and gas industry;
Provide students with a quality education in applied chemistry in an academic environment committed to excellence and innovation that fosters leadership, professionalism and life-long learning and successful careers.
Student Outcomes
Upon completion of the MSc in Applied Chemistry, graduates will:
Be able to apply advanced concepts of fundamental and applied chemistry to the formulation and solution of complex problems in the oil and gas and related industries;
Develop and publish results of their research (if satisfactory) in peer-reviewed journals;
Have sufficient experience to successfully begin a Ph.D. program in applied chemistry in a recognized university; and
Be equipped with the knowledge and skills in applied chemistry to meet the requirements of appropriate job opportunities at chemical companies.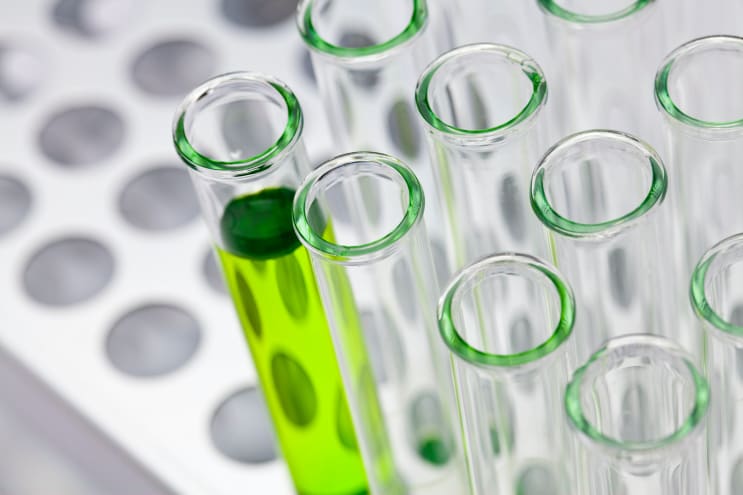 Graduation Requirements
In order to complete the requirements of the program, candidates must:
Complete a minimum of 24 credit hours of coursework including:

12 credit hours of core (or compulsory) courses.
9 credit hours of elective courses.
2 credit hours of Graduate Seminar, one in each semester.
1 credit hour of COMM 601 Technical and Scientific Writing.

Successfully complete and defend a research project thesis (12 credit hours).
Admission requirements
Completion of a Bachelor's degree in a relevant discipline with a minimum Cumulative Grade Point Average (CGPA) of 3.0 out of 4.0, or equivalent (e.g. upper second-class honors in a UK-style degree, from a reputable accredited institution).
A minimum level of English proficiency in the form of either:

iBT TOEFL (internet-based test) score of 91 or equivalent, or
Overall academic IELTS score of 6.5, or
1550 EmSAT English score.

A minimum quantitative score of 150 in the general Graduate Record Examination (GRE) is required for admission to all programs, with the exception of Master of Engineering in Health, Safety and Environment Engineering and the Master of Arts in International and Civil Security, where a minimum threshold is not set. Applicants for all programs should attempt all three sections of the GRE.
A minimum of two referee recommendations (provided via online form).
Statement of purpose (500-1,000 words).
Admission interview.
Last updated Apr 2020
About the School
The internationally top-ranked Khalifa University is the one university in the UAE with the research and academic programs that address the entire range of strategic, scientific and industrial challen ... Read More
The internationally top-ranked Khalifa University is the one university in the UAE with the research and academic programs that address the entire range of strategic, scientific and industrial challenges facing the UAE's knowledge economy transformation and our rapidly evolving world. Its world-class faculty and state-of-the-art research facilities provide an unparalleled learning experience to students from the UAE and abroad. The university brings together the best in science, engineering and medicine in the UAE, to offer specialized degrees that can take promising high school graduates all the way to top-rated doctorate degree holders.
Read less