Master AeroMat - Innovation Aerospace Materials
Home ›
Master ›
Master AeroMat - Innovation Aerospace Materials
Program Description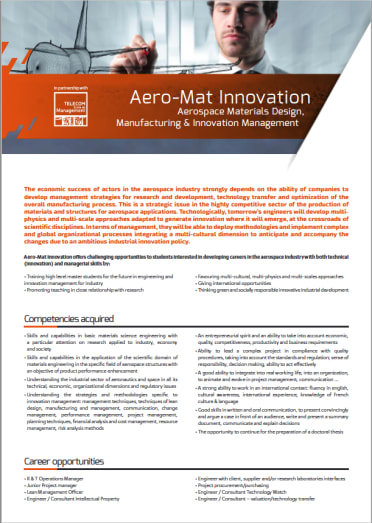 IMT Mines Albi is a graduate school of engineering in France, a French "Grande Ecole d'Ingénieurs". 24% of students are international.
Master Aero-Mat Innovation offers challenging opportunities to students interested in developing careers in the aerospace industry with both technical and managerial skills.
Classes are taught in English, no level in French is required.
PROGRAM
This full-time program of 2 years is divided into four semesters: courses over 3 semesters followed by an internship of one semester in a company or in a research laboratory.
Courses of 2 academic semesters are delivered in the engineering school IMT Mines Albi, in the city of Albi near Toulouse, and courses of 1 academic semester are delivered in the business school Institut Mines-Télécom Business School in the city of Evry, near Paris.
The program is composed of 4 teaching units including an integrated and global approach addressing the specificity of the aerospace industrial sector, the materials science and mechanical engineering and the business and innovation management. Skills and competencies acquired will be utilized for the master thesis in a company or a research laboratory.
Teaching units:
1. Aerospace engineering
Market, technical and economic analysis.
Architecture, structure, and performance of airplanes, launchers, and satellites.
Aerospace project management, quality management, certification and environment rules for sustainable development.
Aerodynamics and flight dynamics.
Manufacturing.
Space techniques and materials in space environment.
Innovation in aerospace.
2. Materials science and mechanical engineering
Strategy for selecting & tailoring materials.
Modelling & simulation in mechanics of materials.
Physical properties of materials.
Additive manufacturing.
Advanced manufacturing processes.
Diagnosis and control of materials & structures.
Microsystems.
Surface engineering.
Laboratory work.
3. Innovation management
Principles of management (introduction, business simulation, multidisciplinary team management, soft skills learning, international negotiation).
Innovation management (R&T, technology competition models, technology intelligence, organization & tools, scientific and technological partnership, innovation measure & metrics, intellectual properties, rights & strategy, technology intelligence with patents)).
Project management (designing innovation project, response to a competitive call for tender, press review).
Business management (strategy, value chain, firm network, human resources management, intercultural management, business ethics, supply chain management).
4. MSc Thesis
6-month MSc thesis in the industry and/or research laboratory (France or international).
The program also includes company visits and seminars.
TYPICAL JOBS
R & T Operations Manager
Engineer with client, supplier and/or research laboratories interfaces
Junior Project manager
Project procurement/purchasing
Lean Management Officer
Engineer/Consultant Technology Watch
Engineer/Consultant Intellectual Property
SCHOLARSHIPS AND STUDENT LIFE
Partial financial helps are available depending on academic records.
Albi is a warm, charming and affordable city near Toulouse, in Southwest France.
All students have an accommodation in town or on the campus where they can practice many sport and cultural activities, even in the weekend. They benefit from a special welcome package upon arrival (assistance to get the student visa, pick-up at the airport, assistance in the administrative requirements, cocktail offered by the city hall, city visit, …)
See you soon in Albi :-)
Last updated Dec 2019
About the School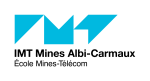 Founded in 1993, IMT Mines Albi is a state-funded higher education institution, placed under the authority of the Ministry of Economy and Industry.
Founded in 1993, IMT Mines Albi is a state-funded higher education institution, placed under the authority of the Ministry of Economy and Industry.
Read less