Master in International Business
Program Description
In this MIB program, several courses are offered in English, but most of them are in Russian.
Master in International Business
The Master in International Business is an intensive part-time program that attracts ambitious and creative students, who choose to study and work at the same time.

The aim of the program is to equip students with the necessary general management tools, techniques and concepts, and at the same time to expose them to international issues and perspectives. The program gives a strong foundation in general management that enables students to build upon their previous academic experience that might not have included a managerial or economics component. Visiting faculty, innovative curriculum and international network of GSBA enable MIB students to pursue their careers in a truly international environment.
MIB Curriculum

The first year curriculum is very intensive and includes core foundation courses and intensive English language training. The courses serve as a basis for further academic and professional progress. The first year ends with a set of courses on international aspects of business and management, taught in English by visiting faculty.

The second-year curriculum gives stronger emphasis on professional courses and offers a wide variety of electives. Second-year students can either deepen their knowledge by working on research thesis or to start professional experience by combining studies and work.

The MIB program requires significant practical work, both in classes and home assignments. Following GSBA's teaching philosophy "ACTION-REFLECTION-LEARNING", students work on cases based on current business issues and participate in small group activities.

An integral part of the MIB curriculum is computer-simulated business games that allow students to apply a knowledge base and the skills of major business disciplines in a global business environment and to test them in competition with other student teams from around the world.
Students Come to the GSBA MIB Program:
to attain a solid background in economic and business issues;
to form a foundation for future professional activity;
to acquire the knowledge required for an actual job and a future career;
to increase their qualification level;
to combine the education with their job and to improve career opportunities;
to develop solid and valuable practical skills;
to achieve competitive advantages for further career development and to become highly professional managers.
Final Dissertation

A final dissertation, based on thorough research of a concrete business situation or a managerially important issue, is a compulsory requirement of a GSBA degree.
Last updated Jan 2018
About the School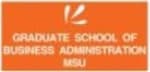 Moscow State University (MSU) Established in 1755 Lomonosov Moscow State University (MSU) is the oldest and the most famous university in Russia. Today Moscow State University offers training in almos ... Read More
Moscow State University (MSU) Established in 1755 Lomonosov Moscow State University (MSU) is the oldest and the most famous university in Russia. Today Moscow State University offers training in almost all branches of modern science and humanities. Its undergraduates may choose one of 57 qualifications. The total number of MSU students exceeds 40,000; besides, about 10,000 high school students attend various clubs and courses at MSU. It is a centre of research science famous for its major scientific schools. There have been 11 Nobel Prize winners among its professors and alumni. Moscow State University comprises 29 faculties and over 350 departments, 15 research institutes, 4 museums, the Science Park, the Botanical Gardens, The Library, the University Publishing House and printing shop, a recreational centre and a boarding school for talented children. Graduate School of Business Administration Moscow State University Graduate School of Business Administration (GSBA) founded in 1989 at Moscow State University is one of the oldest business schools in Russia. GSBA's programmes (Bachelor in Business Administration, Master in International Business, MBA and Executive MBA Programs; Doctoral Program) are designed to meet the most refined demands of Russian and foreign students of all levels. GSBA melts academic traditions of MSU with innovative techniques of teaching business and management. GSBA is a leader in Russian management education, proud to be recognized by business and academic communities for: • action-oriented graduates who embrace an enterprise perspective and lead with integrity, vision, judgment, ethical commitment and social responsibility; • outstanding student-centred teaching provided by dedicated full-time, associate and visiting international faculty using a variety of management education technologies, such as case method, teamwork projects, state of the art business simulations and hands-on experience; • integrated and innovative curriculum and course materials attuned to the lifelong learning needs of current and future business leaders; • managerially relevant research in collaboration with our strategic partner, The Institute for Complex Strategic Studies (ICSS) • mutually strengthening partnerships with Russian and international business organizations, government and civil society leaders that introduce GSBA students to the real world of business.
Read less