Master of Arts in Women & Gender Studies
Home ›
MA ›
Master of Arts in Women & Gender Studies
Program Description
About
The Department of Women & Gender Studies at the University of Lethbridge offers a dynamic, inter-disciplinary and rigorous Master of Arts in Women & Gender Studies. Our faculty also teach and supervise students in the CSPT program (MA and Ph.D. levels). We have expertise in the following areas:
Gender and Global Migration
Reproductive Justice
Critical Race & Sexualities in Law & Culture
Marriage & Kinship
Feminist Constitutionalism
Human Rights & Political Economies
Indigenous Women & Settler Colonialism
Women & Spirituality
Our faculty is united through common themes in their research agendas, most notably interrogating issues of power embedded in and exercised by national states within complex transnational relationships. Whether our research is conducted locally, nationally or globally, by ourselves on individual projects that are small scale, or in partnership with national and transnational projects, we consistently disseminate our work through networks of feminist and allied scholars and build strong working relationships across disciplines.
Here is a sample of current & recently completed MA theses supervised by WGST faculty:
Anastasia Sereda (current) "Women's political leadership in Ukraine: The case of Yulia Tymoshenko, 1997-2010" [Dr. Williams, supervisor]
Brittney Adams (2016) "Untying the Knot: Feminist Expert Evidence in the 'Remarkable' Polygamy Reference" [Dr. Fiske, supervisor]
Greta Vardazaryan (2016), "Gender, Migration, and Practices of Political Participation in Lethbridge" [Dr. Bonifacio, supervisor]
Prosper Asaana (2015) "Migrant Health Care Practices: The Perspectives of Women Head Porters in Kumasi, Ghana" [Dr. Williams, supervisor]
Leon Crane Bear (2015) "The Indian Association of Alberta's 1970 Red Paper published as a response to the Canadian Federal Government's proposed 1969 White Paper on Indian Policy" [Drs. Williams & Many Guns (NAS), co-supervisors]
Shannon Ingram (current) "Silenced Histories: Memories of Accessing Abortion in Alberta, 1969 to 1988" [Dr. Williams, supervisor]
Crystal Phillips (2011) "Theorizing Aboriginal Feminisms [Dr. Fiske, supervisor]
Our department is connected with research institutes such as the Centre for Oral History & Tradition, Institute for Child & Youth Studies and the Prentice Institute, all of which provide mentorship, training and community workshops to build research and methodological skills.
Pursuing graduate studies in WGST offers numerous benefits including inter-disciplinary coursework; small class sizes; a cohort made up of both MA and PhD students; teaching & research assistantships; extensive professional development opportunities (offered through the CSPT program as well as the School of Graduate Studies and the Graduate Studies Association); networking opportunities; office space; pre-existing scholarly and volunteer networking opportunities with regional and local community organizations such as the YWCA, WomanSpace, OutReach Southern Alberta, Immigrant and Family Services Lethbridge, the Southern Alberta Art Gallery, the Kainai Public Library, and the Galt Museum & Archives; and opportunities to learn from nationally and internationally renowned scholars regularly hosted by the Women's Scholars Speakers Series and aforementioned research institutes.
Given this, graduate students are provided opportunities to develop skills in a number of areas such as diverse research methodologies (archival, discourse analysis, interviewing), public speaking, and grant writing (for students who apply for SSHRC, Parkland or other external scholarships).
Preferred academic background is a BA or MA (for Ph.D.) in Women & Gender Studies, or related fields (Sociology, History, Anthropology, Political Science).
Finding a Supervisor
Students are required to secure a potential supervisor prior to submitting an application for this program. For further information please visit our
Search Supervisors
page.
Career Opportunities
Our MA graduates have gone on to pursue PhDs and law degrees, work as research consultants, and have found employment in administration, business, and the non-profit sector.
Last updated Feb 2020
About the School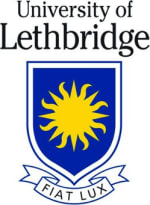 The University of Lethbridge was built on a commitment to students and the student experience, small classes and the liberal arts. Those founding principles are still at the forefront of what we do. T ... Read More
The University of Lethbridge was built on a commitment to students and the student experience, small classes and the liberal arts. Those founding principles are still at the forefront of what we do. Today the U of L is respected around the globe and is recognized as a research-intensive, comprehensive university.
Read less