Why Advantere
Father Arrupe, a former general of the Society of Jesus, used to say: "It scares me that we can give yesterday's answers to today's problems".
It is with that spirit and reason that Advantere was born.
From the solidity and prestige of the institutions that support Advantere, its purpose is to re-think and define the management and the education of the leaders that organizations and society need today and tomorrow. Its purpose is to accompany young people and professionals in their development as individuals and as the best people for others and the world. A world radically different from the one we know, in which change exceeds the human capacity to adapt, with new rules that are yet to be written, a world in which we all must necessarily be committed to making it fairer, more sustainable, and even re-generate it.
Transforming management education in accordance with the needs of the fourth industrial revolution and the challenges faced by our students, professionals, leaders, organizations, and society. We call our approach "Re-solutionary learning"
Going one step further in the commitment between education, management, and a fairer and more sustainable society subsequently forming part of our DNA and encouraging our students and stakeholders to become agents of change through our programs and activities
Promoting managers and leaders as people for others, with a transcendent meaning in their lives and their professional responsibility, being able to generate and transmit purpose with a spiritual dimension.
Advantere is a management school with full autonomy that within the framework of the institutions of the Society of Jesus was born with the support of three benchmark institutions: Pontifical University of Comillas and University of Deusto as promoting institutions and Georgetown University as a strategic academic partner. The three institutions guide and advise the academic development of Advantere.
1 global network A global network of educational excellence. Without education, a fair and sustainable world is not possible.
200 university institutions The Society of Jesus is one of the most important higher education networks in the world with more than 200 university institutions and with presence in five continents.
2700 schools With more than 2700 schools, the Society of Jesus educates children and young people in more than 90 countries and has got more than 100 million alumni.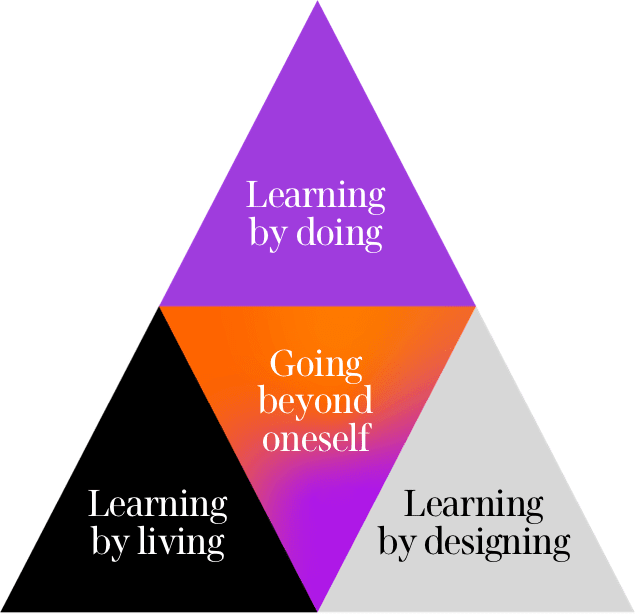 Why re-solutionary learning?
Management implies an additional responsibility. As Mintzberg said, "managers must lead and leaders must manage". Lead others and lead change. Lead from any position, not as a privilege but as a responsibility. Anticipate and be prepared for change and the unexpected. Being able to solve, design, and execute new solutions. Create collaboration spaces so that talent can multiply and amplify its capabilities. If these are the professional and personal challenges that await us, why educate yourself in a different way? Why continue to apply learning models from the second industrial revolution when we are in the fourth? Why individual learning models when what is necessary are collaborative models?
Advantere Pedagogical Approach
We have re-acted to the discovery that we have to re-learn the way we learn. Because new times require new solutions and the best collaborators.
That's why we created The RE learning method, a real-time, genuinely project-based re-learning.
Learning by doing. Learning by doing is the best and proven way not only to get a better understanding of anything but also to give you the mindset and competencies necessary to put in practice your knowledge and ideas. As Aristotle said, "For the things we have to learn before we can do them, we learn by doing them."
Learning by living. Ultimately living in an international environment encourages students to create solutions in different contexts which operate in different ways. By collaborating with people from different disciplines they obtain the necessary perspective to approach challenges in a much more flexible way, acquiring a different mindset for life and their professional careers.
Learning by designing. At Advantere we go beyond this concept and our students learn by facing real challenges coming from new and unexpected issues in organizations and in society, designing and creating executable original and not before thought solutions. Facing uncertainty, creating solutions, adding value. Because as managers this is what you will be expected to do every day in your professional life.