Master in
Master of Information
Dalhousie University
Introduction
The School of Information Management (SIM) was created as the School of Library Service (SLS) in 1969. The first MLS (Master of Library Service) degree was awarded at Dalhousie University's May 1971 Convocation.
From 1979 to 1985 the School undertook a complete revision of its curriculum, which was then implemented over two academic years from fall 1985 to winter 1987. At the end of the revision process the name of the school and the degree offered were changed to reflect the new curriculum with its integration of librarianship and information studies. The school became the School of Library and Information Studies, and the first Master of Library and Information Studies degrees were awarded in May 1987.
Continuing to evolve, our MLIS became an MI – Master of Information in 2019 after comprehensive deliberation. This change was motivated to reflect more accurately the content of the program, our program goals, and to be more inclusive of all the career options possible through our degree. This new name reflects the transitions within the profession, the new emerging workplace opportunities centered around digital transformation, data, community engagement and human centred design, and mirrors changes in similar programs across North American. The MI will provide a broad umbrella under which the program can grow in multiple directions, continuing to support diverse professional communities including librarians, archivists, information managers, information architects, data managers and user design experts.
Our degree, initially as an MLS, then MLIS and now MI has been continuously accredited by the American Library Association (ALA) since 1971.
What is Information Management, anyway?
At the School of Information (SIM), we define information management as a people-centred approach to discovering, organizing, analyzing, representing, and accessing data, information, and knowledge. Effective IM gets the right information to the right people at the right time.
Information managers are dynamic, socially responsible, innovative professionals skilled in the management of information and technology, who provide leadership and vision in a knowledge-based society. They advocate for the values-based management of knowledge and information, and advance the discipline of Information Management by pursuing creative multidisciplinary research.
Curriculum
The MI degree is a 20-month course of study for full-time students. A total of 15 half-credit courses (45 credit hours) and the non-credit Practicum are needed to complete the degree
Full-time status: a minimum of 3 half-credit courses in a single term is considered full-time status. Typically, full-time MI students take 4 half-credit courses in both the fall and winter terms.
Part-time status: less than 3 half-credit courses in a single term is considered part-time status. Students taking the degree part-time have 7 years to complete the degree.
The MI Program is designed for fall admission. Applicants who transfer from another Library & Information Studies (LIS) program, or who possess considerable experience in the field may request consideration for a January admission.
Flexibility
The MI Program's flexibility allows students study full-time or part-time, to do coursework or plan a research path (complete a thesis, explore through a reading course), take electives within SIM or elsewhere.
Advising
Faculty maintain generous office hours giving you the opportunity to get to know your professors and, in turn, allow them to get to know you. Each student is assigned an academic advisor to guide you through your studies and toward your career goals.
Core Courses
INFO 0590.00 Practicum
INFO 5500.03 Information in Society
INFO 5515.03 Organization of Information
INFO 5520.03 Research Methods
INFO 5530.03 Information Sources, Services and Retrieval
INFO 5570.03 Organizational Management and Strategy
INFO 5590.03 Information Management Systems
INFO 6540.03 Data Management
Advanced Technology Elective Options
INFO 6270.03 Introduction to Data Science
INFO 6513.03 Business Analytics and Data Visualization
INFO 6620.03 Web Design & Architecture
INFO 6681.03 Geospatial Information Management
INFO 6840.03 Content Management Systems
Elective Courses
INFO 6070.03 Reading and Reading Practices
INFO 6090.03 Culture of Privacy
INFO 6100.03 Information in Public Policy and Decision Making
INFO 6150.03 History of the Book
INFO 6250.03 Services and Resources for Young Adults
INFO 6270.03 Introduction to Data Science
INFO 6290.03 Managing Research Data
INFO 6300.03 Government Information Resources
INFO 6310.03 Resources for Business Intelligence
INFO 6320.03 Legal Literature and Librarianship
INFO 6330.03 Cataloguing and Classification
INFO 6370.03 Records Management
INFO 6400.03 Knowledge Management
INFO 6450.03 Services and Resources for Children
INFO 6500.03 Community-Led Services
INFO 6513.03 Business Analytics and Data Visualization
INFO 6560.03 Information Resources Management
INFO 6610.03 Information Policy
INFO 6620.03 Web Design & Architecture
INFO 6630.03 User Experience
INFO 6640.03 Expert Searching for Clients
INFO 6681.03 Geospatial Information Management
INFO 6682.03 Human Information Interaction
INFO 6700.03 Reading Course
INFO 6710.03 Reading Course
INFO 6750.03 Health Sciences Literature and Information Sources
INFO 6800.03 Archives
INFO 6810.03 Managing Information Literacy Instruction
INFO 6840.03 Content Management Systems
INFO 6850.03 Special Topics in Information Management
INFO 6860.03 Archives II
INFO 9000.12 Thesis
INFO 9000.06 x/y Thesis
INFO 9003.00 Thesis Continuing
Undergraduate courses
INFO 2000.03 Modern Information Sharing
INFO 2001.03 Digital Society
Career Opportunities
What can I do with an MI degree?
Our students go on to careers in libraries and archives* and information management** in the public, private and not-for-profit sectors. Read our alumni profiles to find out how our alumni are making the MI degree work for them. Also, see the chart below for job titles held by MI graduates.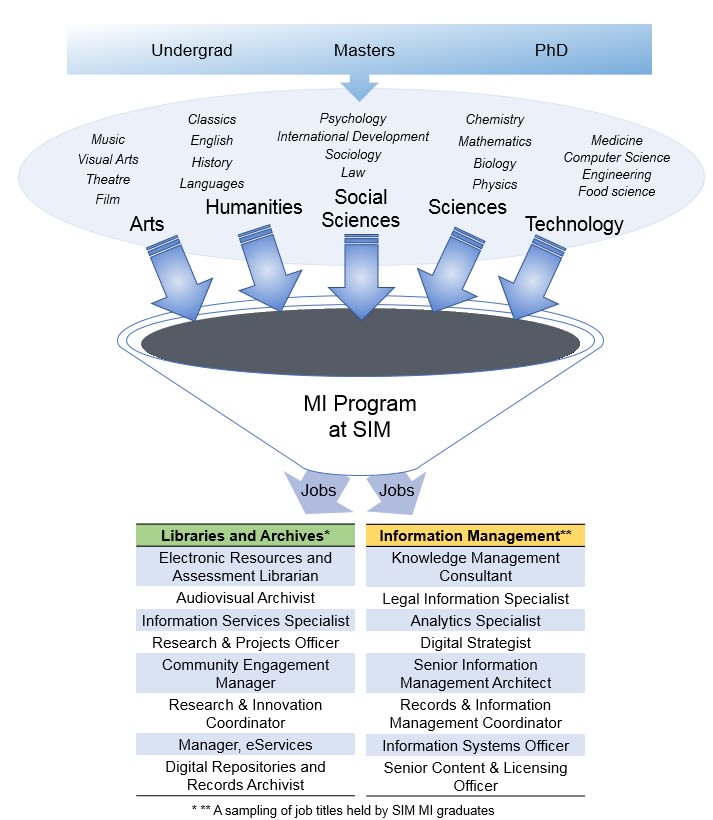 English Language Requirements
Certify your English proficiency with the Duolingo English Test! The DET is a convenient, fast, and affordable online English test accepted by over 4,000 universities (like this one) around the world.