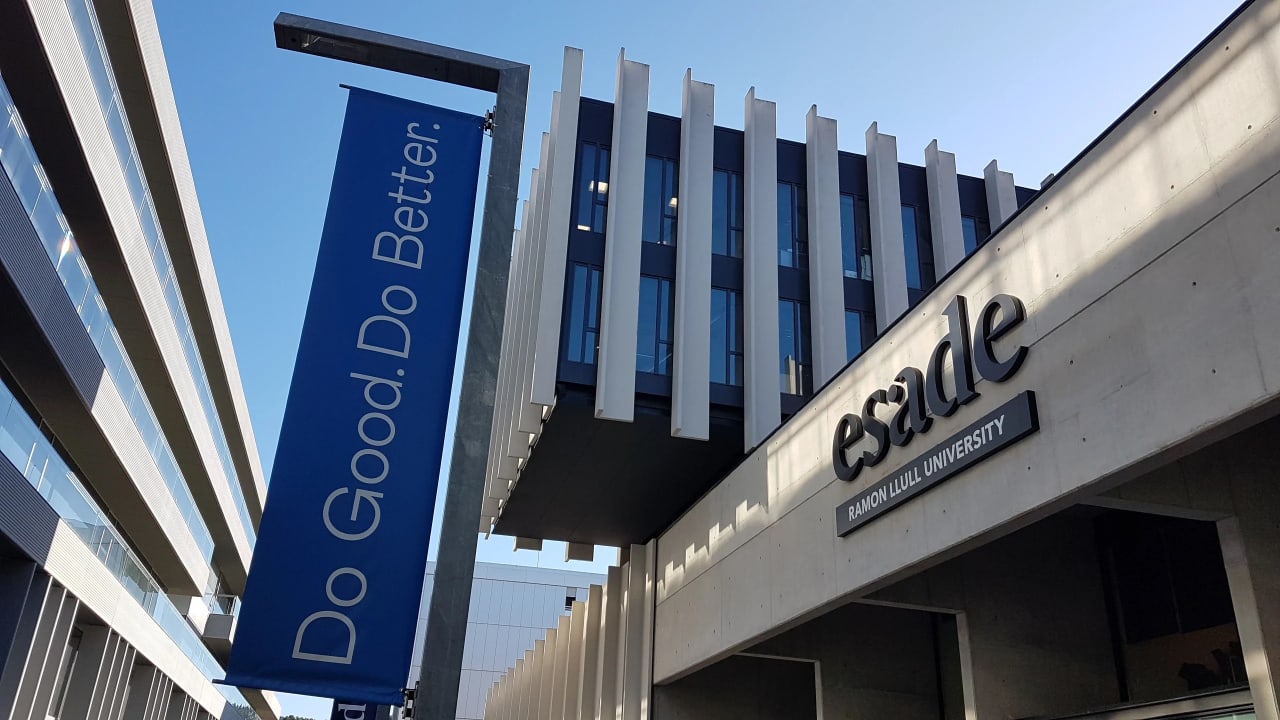 MSc in
MSc in Innovation and Entrepreneurship
ESADE Business School
Key Information
---
Campus location
Barcelona, Spain
Application deadline
Request info
Earliest start date
Request info
* additional fees may apply. Scholarships are available
Introduction
Programme details
Start date: September 2022
Format: In-class
Language: English + some elective courses in Spanish.

Language learning: Optional classes in Spanish, German and French.

Location: Barcelona - Sant Cugat Campus

Study tours: January
Internship (optional): 3 - 6 months worldwide
Whether you plan to start up your own business or to become the driving force for innovation within an existing organisation, the Esade MSc in Innovation and Entrepreneurship will help you achieve your goals. It equips you with the skills, insight and innovation mindset to spot the opportunities, make the connections and bring new business ventures to life.
The Esade added value
At Esade, you'll step into a world of entrepreneurship: from cutting-edge concepts and curriculum to all of the resources of the Esade Creapolis innovation park and the Rambla of Innovation. You'll have direct access to active entrepreneurs, investors and accelerators, and boundless networking opportunities. The Esade entrepreneurship ecosystem has every resource you need to hone your competencies and ideas. And turn them into reality.
Reasons to Choose the MSc in Innovation and Entrepreneurship
At Esade entrepreneurship and innovation are part of our DNA. We specialise in challenging assumptions, building a disruptive mindset and delivering the tools, insights and skills to unlock creativity, invention and innovation.
From Esade Creapolis to the Rambla of Innovation, you will have full access to everything that our rich entrepreneurship ecosystem has to offer. Prepare for a unique, immersive learning experience that will transform the way you think, spot opportunities, connect the dots, build strategy, prototype and follow through with excellent execution. Prepare to innovate
Rambla of Innovation

At Esade, innovation is in our DNA. Our Sant Cugat campus is built around an environment designed for business experimentation and creation.

Professionalisation

Working with Esade partners, you will have the chance to deploy your learning and find innovative solutions to real business challenges. Projects give you the chance to experiment in a real-world context, build team-working skills, bring your ideas to life and build a business network.

New Venture Challenge

Put your ideas to the test. Win a scholarship covering your full tuition fees. Then bring your ideas to life.

Reputation

Begin your postgraduate education among the business and finance leaders of tomorrow, on one of the best Masters in Innovation and Entrepreneurship in the world.

International Experience

During intensive, week-long study tours you'll visit top universities and leading companies around the world. Specialist seminars will give you actionable insights into critical topics.

Languages

Having a second language is a key tool and differentiator; consolidate your knowledge of Spanish, or, for native Spanish speakers, there's the option to take French or German lessons.
Program Outcome
Transform your mindset
The MSc in Innovation and Entrepreneurship will challenge, stretch and guide you to rethink your ideas and approaches. You will explore every aspect of the innovation journey from every perspective, building the skills, agile thinking and mindset to spot opportunities, deliver cutting-edge strategy and follow through with excellence in execution.
Specifically, you will learn how to:
Find, launch and manage new ventures with high-growth potential.
Seek and evaluate new business opportunities.
Design and validate business models to build successful start-ups and prepare business plans.
Design, implement and manage a company's innovation strategy, network or system.
Analyse and actively participate in any start-up funding process from both the founder and the funding sides.
Become a responsible leader who, being aware of the implicit values and impact of all decisions, is committed to building a fairer society, working collaboratively with integrity and fostering diversity and inclusion, in order to achieve the Sustainable Development Goals.
Ideal Students
When you join our MSc in Innovation and Entrepreneurship you join a diverse and talented cohort of aspiring innovators, disruptors and creators from around the globe. Like you, our students are people who think differently; people who want to start up or lead innovation within companies. Like you, our students want to build the skills, insights, the knowledge and the mindset to see opportunities, deliver cutting-edge strategies and bring new ideas to life.
Over a third of students on the programme are women. 22 nationalities are represented, from Europe, Latin America, North America and Asia. Most programme participants have previously studied business or economics although engineering and other backgrounds are also represented. This diverse mix enriches your Esade experience, and opens up new perspectives on how the world does business.
Career Opportunities
Where Can Your Esade MSc Take You?
The business changing world is changing fast. And you want to lead that change.
At Esade, we understand your drive to do things differently. That's why the MSc in Innovation and Entrepreneurship has been created as a defining step towards becoming a successful intrapreneur or entrepreneur. Whether you plan to lead innovation from inside an existing company or launch your own start-up, we'll help you to define your objectives, and assemble the tools and resources you need.
If you're driven by a passion to launch your own business, the Esade entrepreneurship ecosystem will support and accelerate your efforts to turn your ideas into reality.
But the can-do mentality you'll develop will also help you add value in the corporate world. Recruiters today are on the lookout for talented intrapreneurs to drive product innovation and process development projects. Research centres, R&D departments, business incubators and development agencies need people with the ideas and understanding to drive innovation through to results. That's why top companies seek out Esade graduates.
While many people who complete the programme do go on to start up their own ventures, many others find success in:
Innovation management
Innovation architecture
R&D
Business development
Innovation management consulting
Policy advice
Financial analysis (evaluation of business propositions)
Managing innovation, technology and creative centres, as well as clean-tech and sustainable energy
Marketing and sales
Curriculum
Programme structure
The programme is built around a precision-designed curriculum that will build your knowledge, insights and skills to exploit opportunities. It has been created to prepare you to launch a start-up or to drive innovation within an existing company.
You'll master the core essentials of entrepreneurial management and explore areas such as opportunity appraisal and the design of conceptual business models. As you learn, you will build an innovation skillset as well as a "can do" approach to problem-solving and idea development.
At Esade we are committed to business with positive impact. So the programme will emphasise incorporating responsible business practices and socially beneficial values.
You will emerge prepared to lead innovation, from managing corporate innovation systems (intrapreneurship) to creating new business opportunities and models (entrepreneurship).
Rankings
1st University in Innovative Education. El Economista, 2020
5 TOP Worldwide for Entrepreneurship by Poets & Quants, October 2019
Scholarships and Funding
A wide range of scholarships available.