Master in
Master in Logistics: Purchasing & Supply Chain
INSA Business, Marketing & Communication School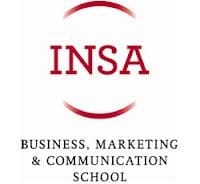 Introduction
A Master's in Logistics: Purchasing and Supply Chain Management is a postgraduate degree program. This master's in collaboration with Camilo Jose Cela University focuses specifically on the management of logistics, purchasing, and supply chain operations within organizations. This program provides students with advanced knowledge and skills in areas such as procurement, inventory management, transportation, and supply chain strategy.
The program offers a comprehensive curriculum that combines theoretical foundations with practical applications, preparing students for successful careers in the field of logistics and supply chain management. Through interactive lectures, case studies, and hands-on projects, students gain a deep understanding of industry best practices and emerging trends.
The programs collaborating with Camilo Jose Cela University are held on the campus of INSA Marketing and business school in Barcelona.
Program Outcome
The goal of Logistics is new relationships with suppliers from diverse cultures, the importance of soft skills, internationalization, higher quality thresholds, increased risks, and increased competition are some of the features that make up the field of purchasing management.
Ideal Students
Graduates in a relevant field such as business administration, logistics, supply chain management, operations management, engineering, economics, or related disciplines.
Professionals who are already working in fields related to logistics, purchasing, supply chain management, or related fields.
Companies seeking staff training.
Individuals who wish to transition into the field of logistics, purchasing, and supply chain management from different backgrounds, such as marketing, finance, engineering, or IT, can also apply.
Curriculum
Purchasing Management
Project Management
Integration of suppliers
Procurement and contracting projects
Foreign Trade
Negotiation Stock Management
Air Freight Sustainability
Digital Cargo Operations Management
Final Project
Career Opportunities
Supply Chain Manager
Logistics Manager
Procurement Manager
Inventory Manager
Supplier Relationship Manager