Choosing IRIS Sup 'is the guarantee of a training recognized by the State, adapted to the requirements of the world of work, intended for those who wish to exercise or evolve professionally in an international context.
IRIS Sup ', the school of IRIS
Created by IRIS in 2002, IRIS Sup 'is a private institution of technical higher education registered at the Rectorate of Paris which aims to train students and professionals in various professions in an international context.
It issues titles recognized by the State, level 7 registered in the National Directory of Professional Certifications (RNCP).
Geopolitics and professional practice
The IRIS Sup 'courses offer students:
to acquire the knowledge necessary to understand international issues and to develop their capacity for analysis and proposals to help decision-making in organizations;
professional tools, with a large share given to learning through simulation and commissioning work situation, from the 1st year;
to mature and set up their professional project in dedicated workshops.
Choose your diploma
IRIS Sup 'offers training in applied geopolitics leading to two level 7 titles recognized by the State: International Strategy Analyst (ASI) and International Program Manager - Humanitarian and Development (MPI-HD ). Accessible with a bac + 3, the courses last two years. Holders of a bac + 4 can apply directly in 2nd year.
> The 1st year at IRIS Sup '(bac + 4)

The private diploma of fundamental studies in International Relations (RI 1) marks the 1st year at IRIS Sup '. Compulsory passage for bac + 3 without professional experience, this year can also allow students with a higher scientific degree to acquire solid foundations on political, economic and diplomatic issues, before specializing in 2nd year.
> 2nd year courses (bac + 5)

International Strategy Analyst (ASI)
3 courses aimed at developing their capacities for analysis, action and decision-making support in international environments:
- Geopolitics and prospective*
- Geoeconomics and risk management*
- Defence, security and crisis management*.
International Program Manager - Humanitarian and Development (MPI-HD) *
A core curriculum aimed at developing its capacities for analyzing the context of intervention in the field, mastering project cycle management (PCM) and programming, along with three paths (strategic, operational, advocacy).
Skills are acquired by working on projects in partnership with actors of international solidarity (NGOs, associations, social entrepreneurs).
* Courses also offered remotely.
Promotions rich in their diversity
At IRIS Sup ', no clones. Student or professional, French or foreign, each comes with his background, his experience, his objectives, and will enrich, throughout the year, the lessons as the diversity of origin of students and stakeholders.
IRIS Sup 'welcomes each year about 20% of students representing thirty nationalities.
As English is required in any international activity, some courses are taught in this language.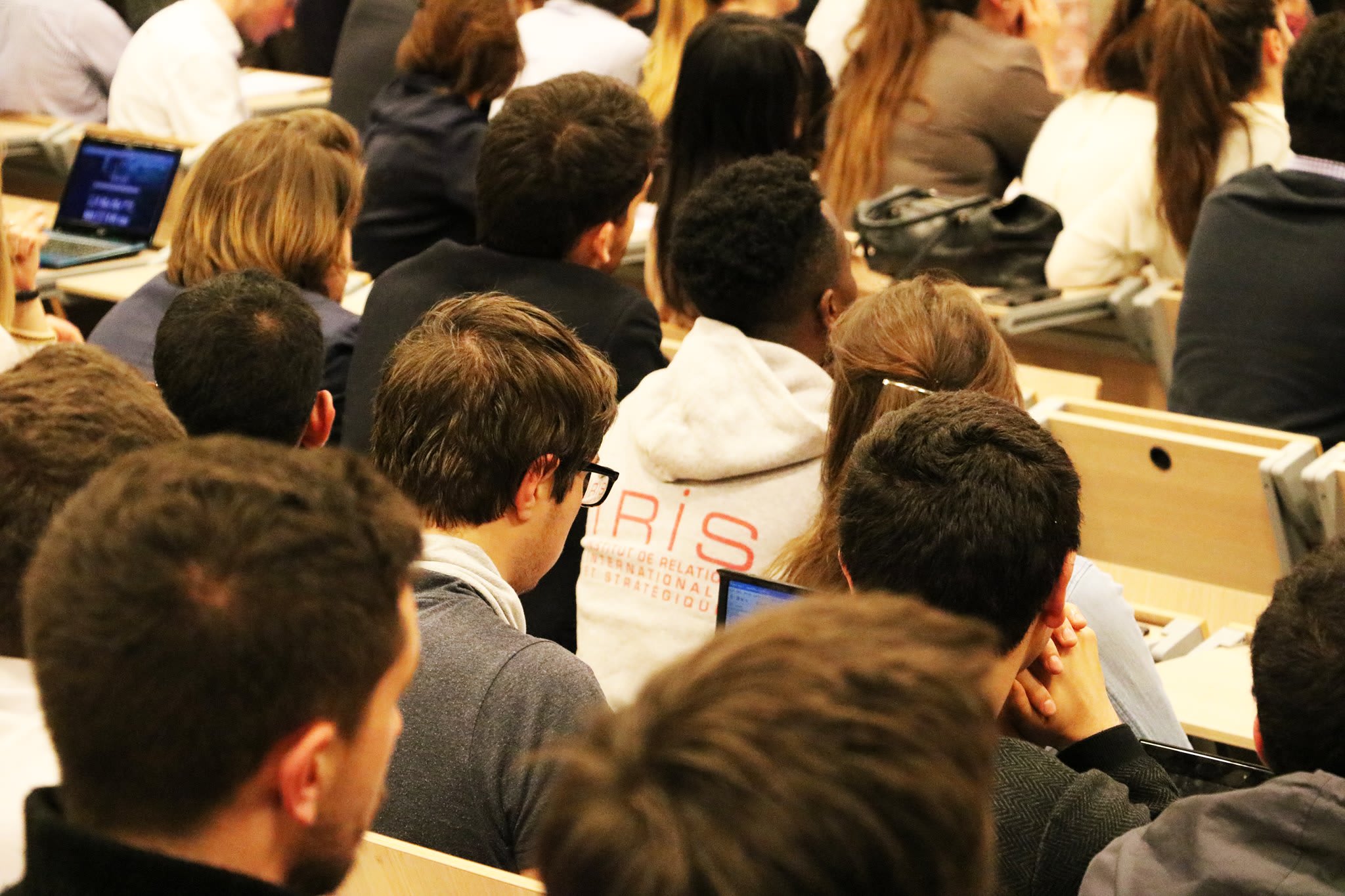 Follow-up and pedagogical supervision
With more than 560 face-to-face and distance students, IRIS Sup' remains a structure in which anonymity has no place. At the beginning of the year, each student signs an internal regulation, which will govern his relations with the teachers and the teaching team. Attendance is mandatory and assignments must be returned within the set deadlines. The dialogue with the administration is constant: whether there is an administrative or pedagogical question, each student will always find someone to contact.
IRIS Sup 'students have a work room where headlines from the French and international press are available to them, as well as 200 online journals on the CAIRN portal. Several computer stations with office suite, Internet and Wifi, are open access.
Open courses on the professional world
- An organization favorable to alternating studies / practice: possibility of doing internships or having a job 3 days a week, in parallel with classes from October to May, then full time from June to December.

- Contact with professionals: all stakeholders work in companies, associations, international organizations or the senior civil service. Their courses thus combine theoretical contributions, practical applications and daily experience of functions in an international environment. Projects are carried out with and for partner organizations.

- Association with IRIS activities: in parallel with their courses, IRIS Sup' students can attend conferences and collaborate in IRIS activities (International and strategic review, application for an internship within the publication department or as a research assistant...),
The alumni network: created in 2008, IRIS Sup' Alumni aims to bring together a network that now has more than 2,600 graduates!

- Professional and international experiences: led by coaches, workshops to reflect on their professional project and their methods of finding an internship / job are included in all programs. Internship and work-study contracts managers also publish announcements for students, which they also receive for personalized advice. IRIS Sup 'students are now appreciated in several hundred private companies and public organizations. An international relations manager develops offers abroad, international mobility and monitors foreign students.
Updated training every year
At IRIS Sup', the opinion of each actor counts: students, teachers (all professionals), tutors for internships and apprenticeship contracts, partners, graduates currently in post... Evaluation questionnaires, advice development with external professionals, educational meetings, meetings and formal and informal discussions provide the opportunity throughout the year to mix points of view and constantly develop the content of training. Adapting training to the expectations of employer organizations is a permanent concern.
Points common to all formations
The selection (eligibility on file, admission on interview), the pace of studies, the geopolitical mix and professional practices, of professional speakers recognized in their fields, are the common characteristics.
The methods of validation of training, adapted to each course, are close: continuous control (attendance, lectures, reading notes, exercises, simulations, etc.), exams (January and end of May); dissertation and oral defense (September-October); internship report (September).