Master in
International Master in Entreprenurship and Innovation
Rome Business School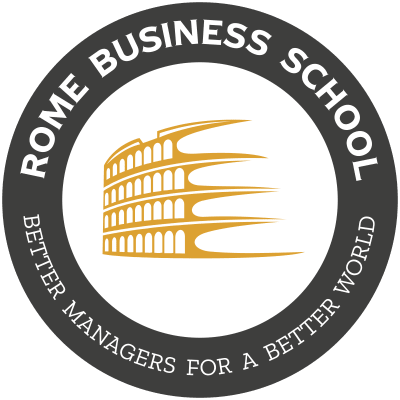 ---
Campus location
Rome, Italy
Study format
Distance Learning, On-Campus
Application deadline
Request info
Earliest start date
Oct 2023
* scholarship up to 15%
Introduction
Please note: this program is taught entirely in English
Under the patronage of:
Rome Business School's Master in Entrepreneurship and Innovation has been designed to provide participants with a learning experience previously only available to startup founders on an accelerator or incubator program. Built-in collaboration with the wider entrepreneurial ecosystem, it has been designed to take professionals, managers, individuals with the aim to become entrepreneurs, through the steps involved in developing an idea into a commercial or social enterprise.
The Reasons Why
International Bootcamp in Barcelona, New York, or Rome
Rome Business School Programs in Rome, Barcelona, and New York, where you can also expand your professional network. This residential program comes at an additional cost offers you the chance to hone your competencies and enrich your knowledge of entrepreneurship, innovation, and other key topics in the business world by taking part in our InSoft Skills Program
The foundations of a solid and successful career are, without a doubt, the much requested and celebrated Soft Skills, competencies that find practical uses in every working environment and business area. Our Soft Skills program will provide you with a thorough and detailed knowledge and familiarity with these personal soft skills, facilitating their personal and professional growth.
Networking and Partners
Rome Business School has solid partnerships in place with several globally renowned leading companies, such as Enel, Fendi, Bulgari, Eataly, IBM Italy, Land Rover, and many more. To ensure our students can build a strong professional network, we constantly organize meetings, visits, events, and guest lectures with representatives from elite business ecosystems, encouraging interaction between leading professionals and the students, and facilitating the learning process.
Career Path
Our skilled and professional Career Services Team provides our attendants with a personalized Career Path specifically designed to shape his or her own professional profile in order to become a competitive figure in nowadays' job market. Workshops focusing on the hottest topic of job seeking and career networking, individual career counseling meetings, our exclusive event 'Rome Business School Talent Focus', and more invaluable benefits are at your disposal to ensure the best start or a great boost in your career!
Study in Rome
The cradle of civilization and homeland of an invaluable cultural and artistic heritage, Rome is the ultimate location to live a higher education experience; take advantage of the many beautiful places and enriching initiatives offered by the roman landscape, and learn in one of the most proficuous centers of made in Italy production.
Degree
Students who successfully complete the program will receive a double certification: Rome Business School's diploma and an official certification by Universidad Internacional de Valencia (VIU), which provides 60 internationally recognized credits (60 ECTS).
Jumpstart the rest of your life!
If you are looking for top-quality advanced training in a particular business area, countless opportunities for skills development and testing yourself, ways to expand your professional network, and make contact with elite professionals working in several business fields, we have exactly the program for you. From there, it's all up to you! Your determination and willingness to learn and experience new ways of thinking are all you need to make the most of one of our programs and start making your way along the path towards success in your career.
Curriculum
Structure
6 months of lectures + soft-skills program
6 months dedicated to Career Services & Open Innovation Lab
4 Company Visits
Soft Skills Program
Optional International Bootcamp
Benefits
Participation in the RBS Open Innovation Lab Business launch + Pitch Deck
Company visits – Examples include Alan Advantage, Lazio Innova Eco-Systems Startups, Seedble, Enel X.
International Study tour: Bootcamp in Barcelona or New York
Cultural Program –Walking Tours in Rome
Soft skills program
Research Methods for Business Workshop
Italian Language Course – Beginner level (A1 & A2)
Accommodation Support
International Student ID Card – ISIC
Career Services
Contents
Mind Opening & Knowledge Management Setting
The first part of Rome Business School's Master in Entrepreneurship and Innovation provides you with comprehensive preparation for the sector and crucial aspects of other related fields, initially giving a wide overview of the broader management world.
Focusing and Specializing
Develop the competencies required to address and enhance new needs in different areas of the organization. Study topics from Entrepreneurship, Leadership, and Strategy to Promotion, Selling, and Public Relations.
Be a Future-Oriented Leader
Learn about Social Entrepreneurship & Trends, with a focus on Entrepreneurial Failure.
Capstone Project
Group project, tutored from the beginning by entrepreneurs, and prepared in partnership with the Open Innovation lab, with a scope to develop an Integrated Business plan and a prototype of the business idea/product.
Bootcamp around the world
Hone your entrepreneurial skills and test them with the ultimate challenge: Rome Business School's exclusive Bootcamp in Barcelona, organized in partnership with EAE Business School, and in New York, in partnership with Pace University, two beautiful cities at the forefront of innovation and among the most productive start-up ecosystems. An advanced program designed to put you face to face with realistic business scenarios to solve and provide you with a practical way of learning and skills development. All with the professional support of a tutor from top-class working companies!
Career Opportunities
Career Services
With our help, you can create your career strategy via a journey of self-reflection, exploration, and achievement. This program is designed to help you find internships or positions in line with your ambitions and expectations. In particular, the school offers the following services to the enrolled students:
Individual Career Counselling Meeting
Rome Business School's Official Career Portal
Professional Workshops
Rome Business School's Talent Focus
Placement rate
At the end of the Master, 96% of the students obtained an internship in internationally renowned companies.