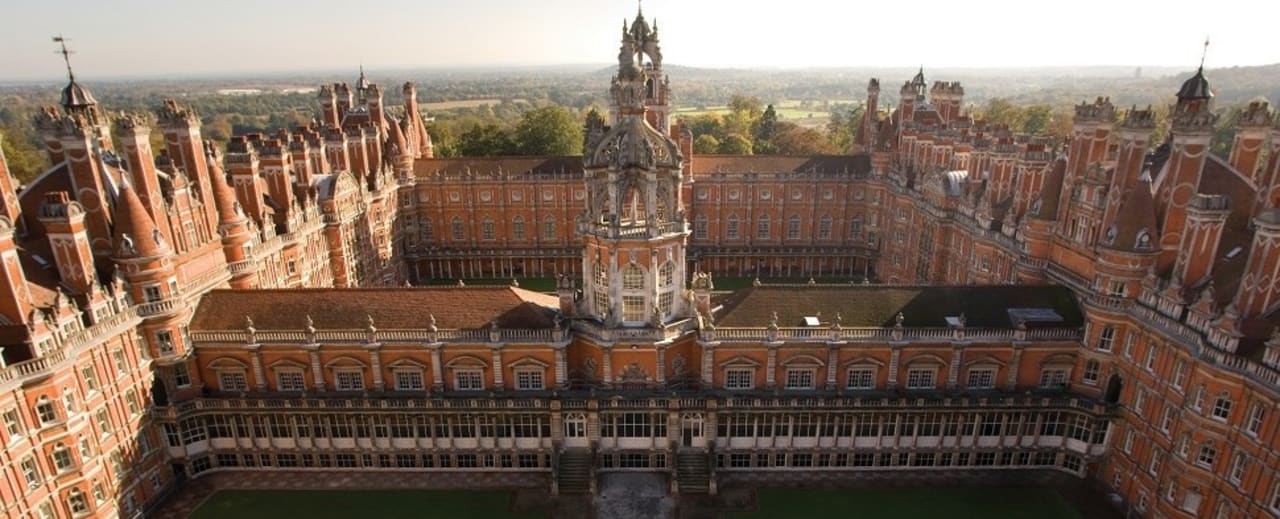 MSc in
MSc Entrepreneurship and Innovation
Royal Holloway University of London
Key Information
---
Campus location
Egham, United Kingdom
Tuition fees
GBP 22,800 / per year *
Application deadline
Request info
Earliest start date
Sep 2023
* EU and international students tuition fee per year. EU students - see Program Tuition Fees section for fee reduction scholarship. UK students tuition fee per year - £14,100.
Introduction
This course is designed for individuals who wish to pursue a career as an entrepreneur, whether that be starting a new organisation or developing entrepreneurial and innovative projects within existing organisations. You will be equipped with a specialist and in-depth understanding of entrepreneurship and innovation together with practical skills, enhancing your employability.
Also available with a Year in Business option - find out more here.
The course draws upon the highest level of theory and practice in this field and builds on the extensive research and teaching expertise of academics within the School of Business and Management. The content of this course is continually updated to reflect contemporary issues and areas of interest, such as family business management, entrepreneurship and consultancy, and social entrepreneurship.
Our course is enriched with the knowledge and expertise shared by our visiting speakers which include entrepreneurs running successful and in many cases, highly innovative business.
As a student of the School of Business and Management, you will join an intellectually stimulating, friendly and supportive research environment and, through working closely with our expert and experienced academic staff, you will be in a position to realise your potential.
Excellent position to be a successful business owner or manager by gaining a deep understanding of entrepreneurship and innovation, coupled with a practical set of skills and the beginning of an effective business network.
Flexibility to tailor your studies to suit your specific areas of interest, such as marketing communications, e-business and accounting.
Outstanding research; Royal Holloway sits in the top 25% of UK universities for research which is rated as 'world-leading' and 'internationally excellent' (REF 2021)
Latest thinking and exciting intellectual challenges provided by academics who are at the frontiers of their subjects.
From time to time, we make changes to our courses to improve the student and learning experience, and this is particularly the case as we continue to respond to the Covid-19 pandemic. If we make a significant change to your chosen course, we'll let you know as soon as we can.
Curriculum
Core modules
Venture Creation and Financial Planning
This module will introduce you to the basic theories and practices related to business planning and the entrepreneurial start-up process. You will look at the discovery of business opportunities, the development and assessment of business ideas, the formation of founding teams, and how to prepare a business plan.
Innovation
In this module you will explore business innovation in the context of new ventures and corporations, discussing how changes in Information technology, markets, and society are affecting the emergence of new business models, products, and services. You will look at sources of innovation and creativity, the innovative organisation, developing new products and services, innovation networks and policies, knowledge management and innovation in the global context for competitive advantage.
Entrepreneurial Marketing
This module will provide you with an introduction to the key topics in marketing, focussing on how small and entrepreneurial organisations with limited resources market and promote themselves. You will develop an understanding of selling and negotiating, market analysis and customer segmentation, consumer behaviour, creativity and innovation, leveraging limited marketing resources, customer relationship management and brand building.
Entrepreneurship and Consultancy
In this module, you will develop an understanding of the key aspects of entrepreneurship. You will look at the entrepreneurship process, the key differences between large companies and small and medium-sized enterprises, and the financing options available to start-up and developing companies. You will examine enterprise barriers, growth and performance, with particular consideration given to the role of start-up and entrepreneurial activity in the hi-tech and biopharma sectors.
Dissertation Preparation and Research Methods
In this module, you will develop your analytical and technical research skills so that you are better prepared to undertake assignments and your dissertation. You will look at approaches to management research and the assumptions upon which they are based, and consider how to critically evaluate primary and secondary data sources. You will examine how to choose appropriate quantitative and qualitative research methods for data collection and subsequent analysis, and how to conduct research in a systematic and critical reflective manner. You will also analyse the ethical implications of research investigations and their impact upon findings.
Independent Business Research Project
In this capstone module, you will be given a topic, drawn from current issues faced by businesses, and you will be expected to identify and select an organisational or industry context. You will be expected to undertake a substantial review of secondary sources, comprising both academic journals and industry publications. Using relevant market research techniques, you will undertake a substantive and unique primary research study, providing a critical analysis of key insights. You will be asked to make justified and feasible managerial suggestions, prepare an executive summary, and deliver a presentation to communicate your findings.
Optional modules
In addition to these mandatory course units, there are a number of optional course units available during your degree studies. The following is a selection of optional course units that are likely to be available. Please note that although the College will keep changes to a minimum, new units may be offered or existing units may be withdrawn, for example, in response to a change in staff. Applicants will be informed if any significant changes need to be made.
Family and Small Business Management
In this module, you will develop an understanding of the challenges and opportunities of small and medium-sized enterprises (SMEs). You will consider family businesses as a distinct type of organisation, looking at their strengths and weaknesses. You will examine the prevalence and economic contribution of family firms, as well as issues of governance, strategic management, succession, change and transgenerational value creation, and relationships and conflicts between family members.
Business Ethics and Social Entrepreneurship
In this module, you will develop an understanding of the role of business in modern society from an ethical perspective. You will look at different types of business, including publicly traded multinationals, small and medium-sized enterprises, social enterprises and family firms. You will examine the issues in these organisational types and articulate moral arguments from a range of perspectives, critiquing alternative models of business, including social entrepreneurship, fair trade and microfinance.
Services Marketing
In this module, you will develop an understanding of how the role of service marketing is changing in society and the changing factors that influence marketing decision-making for organisations. You will look at the differences between services and goods, the key elements of service marketing, the service delivery process, and implementing and managing profitable service strategies.
Marketing Communications
In this module, you will examine the principal means of marketing communications – advertising, promotion, public relations, direct marketing and sales teams. You will develop an understanding of the contemporary media environment and how this impacts on marketers' efforts to communicate with stakeholders. You will examine how communications must be tailored to the market segment, and look at the impact of communication cultures, particularly overseas, on market entry.
Consumption, Markets and Cultures
In this module, you will develop an understanding of the broader socio-cultural issues relevant to marketing practice in the 21st Century. You will look at the interactions that occur between the market, consumers and the marketplace, focussing on how particular manifestations of culture are constituted, maintained and transformed by broader forces such as cultural narratives, myths, ideologies and grounded in specific socio-economic circumstances and marketplace systems. You will engage with complex theoretical concepts including consumer culture theory, symbolic consumption and the production of culture.
Teaching and assessment
The courses are interactive, usually offering a lecture-style background of key theories and principles in the first part, and more practical activities, exercises and group discussions in the second part of the lectures. Guest lectures are invited to different classes to give students real-world experience in entrepreneurship. Participation from students in the classroom is a key principle for learning.
Outside the classroom, in the Autumn Term, we organise a field trip to an entrepreneurship hub, and in the Spring term, we organise a field trip to a small business. These provide more opportunities to visit and learn from real entrepreneurs in their environment, giving more opportunities to advance their ideas after their studies. In addition, entrepreneurship activities from student societies on campus could be integrated into the teaching process to bridge theory and practice.
Please note, all trips are subject to Covid-19 guidelines and restrictions.
Assessment
Assessment is carried out by a variety of methods. In the classroom, you will engage in a number of activities, simulations, case-study discussions and presentations where you will receive instant feedback from your lecturers.
Formal assessments include coursework in the form of individual or group assignments, but also presentations, posters, or digital media content creation depending on the course. Examinations are towards the May exam period and an in-class test could take place during the last weeks of each course.
After the teaching term, students will be allocated a supervisor that will guide them through an Independent Business Research Project. The year-in-business students will be allocated a mentor that will follow their progress and work, assisting them in keeping a log and writing a similar final project. This final project gives an opportunity to test learn concepts and ideas in practice in a real business context via research and analysis.
All course information above was updated Autumn 2022 and all information was correct at that time. Please make sure you check our website or contact us directly for the very latest information if you are considering an application.
Program Outcome
On graduating you will have a critical understanding of entrepreneurship and innovation research, an appreciation of the impact of entrepreneurship and innovation and the processes and practices at every level. You will look at venture creation, innovation, consultancy, financial planning, entrepreneurial marketing, social entrepreneurship and family business management.
Career Opportunities
Your future career
On graduating with a Masters degree in Entrepreneurship from Royal Holloway you will be highly employable and have a variety of career paths available, including product development/research, business planning, growth and operations/strategic management in existing businesses, creating new businesses, providing business support and advice or specialising in entrepreneurship policy, research and education. You will also have a solid foundation to continue PhD studies.
"My degree has given me a solid theoretical framework with practical skills and the confidence to be my own boss" - Kola Akinola,Founder of Travelsoul and Co-founder of Savvykids, (MSc Entrepreneurship)

This course is accredited by the Association to Advance Collegiate Schools of Business (AACSB). This means your qualification is recognised in the industry, giving you a competitive edge when applying for jobs