Master in
Master in Geographic Information System
Universitatea De Vest Din Timisoara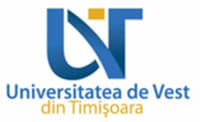 Introduction
This Master studies programme aims to implement advanced research as it is a scientific master program aiming to direct the graduates to follow the doctoral and advanced research program of the university and to prepare graduates with remarkable abilities and competencies which can be easily integrated into the Romanian labor market. The mission of the study programme is in close relation to the general mission of UVT, both in didactic activities as well as in research. The general objective of the program is to provide complex training in spatial analysis by high-level teaching by offering the necessary concepts and instruments for implementing GIS and Remote sensing techniques both in scientific research as well as in the labor market. The main objectives and competencies are corroborated by the needs identified in the labor market and in the national frame of occupations.
Contact details
Address: B-dul Vasile Parvan Nr. 4, Timisoara 300223, Timis, Romania
Telephone: 0256 592 108
Fax: +40 256 592 108
Ideal Students
Problem-solving oriented students. Good technical skills. Passion for research.