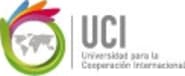 University for International Cooperation
Home ›
University for International Cooperation
UCI is a worldwide recognized university that offers academic programs that promote regenerative and evolutionary development, in a complex, diverse and changing world, through innovative methodologies that promote multiculturalism. Educational Innovation:
UCI's educational model transforms the process of teaching, learning, and training. Its online methodology is characterized by being flexible and accessible, since it allows people to become better organized, according to their needs and possibilities. Global vision:
UCI's Institutional Philosophy seeks to recover planetary health and ensure a better quality of life and global welfare. Experience and International Recognition:
UCI is supported by accreditations and recognition for its great contributions and international commitment. It has programs offered by a highly qualified and experienced faculty.

Mission
Co-create educational and cooperative solutions that contribute to the construction of an intelligent society with universal ethics, through participative, responsible and solidary alliances.
Vision
UCI is a global organization of educational innovation serving an inclusive knowledge society, seeking a regenerative and evolutionary development in a complex, diverse and changing world.
Major strengths of the University
It is a knowledge management and innovation center that seeks to fill gaps that traditional educational institutions and models have neglected or have not specifically addressed.
It is innovative, flexible and synergistic in both creation and modification of academic products.
It has an international character that is reflected in its vocation to serve the world as an institution of higher education; a condition that has allowed it to join important global forums related to the knowledge areas it manages.
As a strategic priority, it has adopted the promotion of educational models that facilitate the access of all types of professionals, adapting the models to their time availability, geographic location, and technological accessibility.
It permanently creates synergies and working partnerships, from its headquarters and representative offices, with academic and research peers, national cooperation, local and civil society organisms, and productive sectors.
The availability of most of its Masters' programs in online modality, using the Internet to teach and share knowledge to national and international students, has positioned the University as a leader in online graduate program education.
It has been a PMI's Registered Education Provider (R.E.P.) for over 15 years and is currently at the Global Provider level. Also, the quality of its Master's program in Project Management has been accredited by PMI's Global Accreditation Center (GAC) since 2009, with a renewal for the continuation of this prestigious accreditation in 2017.
UCI is a provider of educational, research and consulting services for several national or local Latin American governments, as well as for multilateral and bilateral cooperation organisms, such as the GIZ (German Cooperation Agency), IUCN (International Union for Conservation of Nature), UNESCO (United Nations Educational, Scientific and Cultural Organization), UNDP (United Nations Development Program) and the IFRC (International Federation of Red Cross and Red Crescent Societies).
It promotes regenerative development as a way to improve every day's activities of the University's staff, as well as of students and teachers of all Master's programs.

History of our institution
The Universidad para la Cooperación Internacional (UCI, for its acronym in Spanish, is the University for International Cooperation) is a private institution, accredited in Costa Rica by the National Council of Private Higher Education (CONESUP in Spanish) since May 24th, 1994. UCI was born as an answer to the need for having professionals with interdisciplinary and multidisciplinary training, owners of knowledge, tools, and values to lead the required change processes under the concepts of sustainability and globalization. UCI is a consortium of academic institutions, which helps to improve extension and research, as well as the entailment of the people interested in being part of the programs offered. This consortium is formed by our campus in San José, Costa Rica, and an office located in Panama City, since 2008. UCI is a Project Management Institute's (PMI) Global Registered Education Provider (R.E.P.) since 2001, sharing with PMI the idea that Project Management is a critical competency that has a positive influence on our society and on organizational results. UCI has also an alliance with Green Project Management (GPM Global), which is a global movement of project management experts who help companies become more profitable, and societies more robust, while protecting the natural environment. Additionally, UCI is allied with Personal Strengths Publishing in its purpose of strengthening human relationships by enabling individuals and teams to deploy their strengths more productively.
Locations
San José
Address
Universidad para la Cooperación Internacional
Between 15th & 17th Avenues, 35th Street

San José
,
San José Province
,
Costa Rica
Programs
This school also offers: