Charles University Faculty of Mathematics and Physics
Home ›
Charles University Faculty of Mathematics and Physics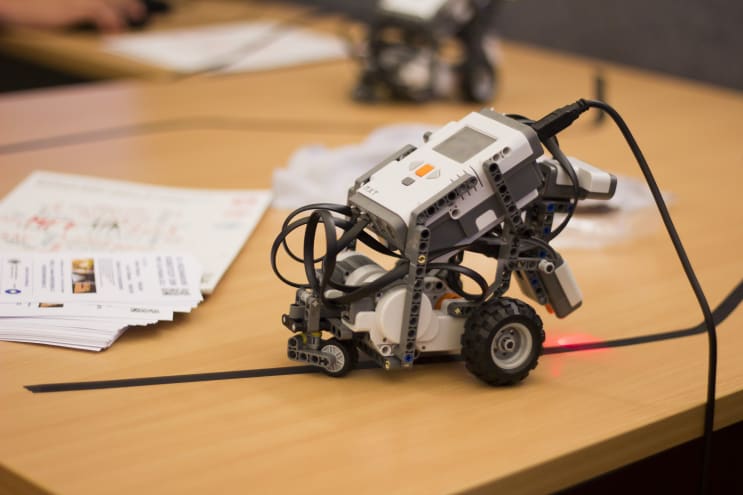 Math & Computer Science Programs at Charles University
What do we offer?
High-quality affordable three-year bachelor's and two-year master's programs taught in English, at one of the oldest and most highly regarded universities in Europe, in one of the most beautiful cities in the world, the capital of a modern and technologically advanced country. The programs have been offered to Czech students for years with great success. Now they are open to international students, too.
Who are we looking for?
Motivated, diligent and gifted young people from all over the world who dare to think and have an interest in computer science and mathematics.
Curriculum
Bachelor's Degree Program in Computer Science
The Bachelor of General Computer Science study program is intended for students who would like to learn the lasting foundations of computer science and to become proficient in its methods and approaches. A soundly built theoretical base is invaluable for working with applications and software development and is a necessity for further study and research in computer science. The bachelor study program usually takes three years and ends with a state final exam, after the successful completion of which the student is awarded the title of bachelor. The degree awarded is accredited by the Ministry of Education, Youth, and Sports of the Czech Republic and is internationally recognized. The language of instruction is English.
Master's Degree Programs
In our Master's programs, students are given a broad overview of their field, helping them to think independently, to distinguish between important and marginal problems, and to accommodate quickly to novel technologies. The focus is on understanding the core principles of how and why things work and on the application of these principles within modern technologies. The strong theoretical basis of the Master's study program gives our graduates a competitive advantage in a dynamically evolving world where today's technologies are often obsolete tomorrow.
Studies usually take two years and finish with a state final exam and Master's thesis defense. After successful completion, the student is awarded the title of a Master of Science.
Admission
Bachelor's Entry Requirements
To apply for the Bachelor of Computer Science program delivered in English you must
Hold or be working towards a School Leaving Certificate (Diploma) or its equivalent; in cases required by law, certification of equivalence of education must accompany the application;
Meet the Reasoning Requirements, and
Provide sufficient proof of English Language Proficiency.
Master's Entry Requirements
To apply for a Master's program delivered in English you must
Hold or be working towards a bachelor's or master's diploma and provide a certified copy thereof; in cases required by law, certification of equivalence of education must accompany the application,
Have sufficient academic background in the relevant fields (see below for details); this can be demonstrated by passing the specialized entrance examination in June 2015 in Prague that is organized by the Faculty of Mathematics and Physics, or by providing transcripts (academic records) of your previous education (preferably accompanied by syllabi of the completed courses); promising students who do not have this background may be admitted with the provision that they complete the missing Bachelor's courses,
Have sufficient command of the English language; this can be demonstrated by providing your results in one of the standardized English tests that we recognize (see below for details).
You are also welcome to accompany your application by
A statement of purpose in which you describe your reasons for applying to the proposed program, your study and possibly also research interests and future career plans,
Letters of recommendation as recent as possible from professors and employers who can comment on your recent professional accomplishments and your qualifications for pursuing a Master's degree in mathematics or computer science.
There are two selection rounds each year: a winter round with submission deadline February 29, 2016, and a spring round with submission deadline May 31, 2016. The review committee will select the best applicants in each round. The goal of the admissions review process is to select from the pool of applicants those individuals who have best shown the capability and diligence expected of Charles University students.
Application Fee for Bachelor and Master Programs
All Applicants: 20 EUR (around $22) per application; please pay this by credit card, following the instructions given in the online application.
Tuition Fees for Bachelor and Master Programs
140 000 CZK (5000 EUR); students from the EU are eligible for a 40 percent discount Average living costs range from 400 to 600 EUR around $440 to $660) per month, including accommodation, meals, public transport, and leisure activities.
Locations
Prague
Address
Charles University
Faculty of Mathematics and Physics
Ke Karlovu 3
Prague 2

121 16
Prague
,
Prague
,
Czech Republic