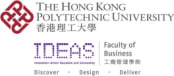 Faculty of Business, Hong Kong Polytechnic University
Home ›
Faculty of Business, Hong Kong Polytechnic University
As Asia's most globally connected city and the gateway to China, Hong Kong offers an unparalleled location to study a business degree. Hong Kong has been named the best city in the world according to a survey by the Economist Intelligence Unit, besides, Hong Kong is also ranked 12th in QS Best Student Cities 2018. Studying in Hong Kong is a good opportunity to experience Asia, and provides a perspective on how China is changing as it integrates into the global environment. The Faculty of Business of Hong Kong Polytechnic University in Hong Kong's largest and most comprehensive business school. Our community is dedicated to the pursuit of IDEAS (Innovation-driven Education and Scholarship) with a 3D focus on Discovery, Design, and Delivery. We realize knowledge and technology transfer through high-quality educational programmes, as well as partnership and close links with industry and the professional community. The Faculty offers a comprehensive portfolio of undergraduate and postgraduate programmes, many of which are recognized by professional bodies in the fields of accounting, finance, logistics, management, marketing, and transport. Apart from the BBA, MBA, DBA and specialized master's degrees, there are also research programmes leading to the MPhil and PhD awards. To maintain the currency of our academic programmes and specialist consultancy, faculty members undertake application-oriented research, both within and across their disciplines, facilitated by the Faculty's centres for research in one belt one road, logistics, shipping, maritime studies, leadership, sustainability and marketing. Our research has been ranked 58th in the world (The UTD Top 100 Worldwide Business School Rankings based on Research Contributions 2013-2017). We look forward to welcoming you to our community of 200 academics from around the world, 5,000 students and 45,000 alumni.
Vision To be a leading business school in Asia.
Mission Statement Our Mission is to discover, design and deliver Innovation-driven Education and Scholarship (IDEAS) of international standing that has an impact on students, organizations and the understanding of business issues. Drawing on Hong Kong's position in China, we will enable students from Asia and beyond to make an effective contribution to the organizations in which they work, and to society as a whole. They will have a global outlook, ethical understanding and the capacity to work effectively in an international business environment.
Locations
Hung Hom
Faculty of Business
Address
Faculty of Business,
The Hong Kong Polytechnic University,
Hung Hom
Hung Hom
,
Kowloon
,
Hong Kong
Phone
(852) 2766 5084 / 2766 5091
Accreditations