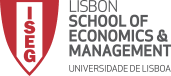 ISEG - Lisbon School of Economics & Management
Home ›
Portugal ›
ISEG - Lisbon School of Economics & Management
ISEG - Lisbon School of Economics & Management
The first school of Economics and Management in Portugal, ISEG belongs to the University of Lisbon, the largest Portuguese University. ISEG Lisbon is internationally recognized and accredited by AACSB and AMBA, complying with the best higher education standards. ISEG's research centers are very well rated by the Portuguese research council (FCT).

With an experienced and well-prepared faculty, students from more than 70 countries contribute to an ever-increasing international academic environment and take advantage of the school's excellence and location. ISEG Lisbon has excellent modern premises at the heart of Lisbon, right next to the Parliament and the river Tagus, in a vibrant neighborhood full of social life, business and culture.

At ISEG, you will find a culture of excellence and achievement, alongside a climate of inclusiveness and cooperation. This is made by the mutual collaboration of students, faculty, and staff.

ISEG is a School prepared for the future: with a unique blend of quantitative skills and social contextualization of economic and managerial decisions, ISEG's faculty, professionals, students, and alumni are at the forefront of those who address the UN's 17 Sustainable Development Goals (SDGs) with an entrepreneurial and collaborative mindset.
10 reasons why ISEG Lisbon
#1 ISEG Lisbon has just entered the prestigious Global Financial Times FT Rankings in 2020 with the Master's in Finance, and is accredited by AACSB, a distinction earned by only 5% of business schools in the world.
#2ISEG's Campus is certified Covid-Safe, a guarantee of safety and readiness to adapt to the pandemic crisis.
#3 All Classrooms are Technologically Fully Equipped, for a perfect leaning experience, whether it is online, in-person, or hybrid.
#4 ISEG is part of the University of Lisbon, the leading Portuguese university according to the selective Shanghai Ranking (ARWU), and has an impressive list of partnerships with top-ranked international schools.
#5 ISEG is perfectly located for the Downtown Lisbon lifestyle experience, in a vibrant, multi-cultural, cosmopolitan, and sunny European capital city.
#6 ISEG's high quality research centers are engaged in a diverse array of international research projects.
#7 ISEG has a large, diversified, global network of talented and successful Alumni.
#8 ISEG graduates are highly desirable to top employers both in the private and in the public sector, all over the world.
#9 ISEG Masters' students and faculty are well known for winning international and national awards and recognition for best case studies, best dissertations and research output, applied projects, as well as in student competitions such as the CFA Challenge or the Junior Achievement Awards.
#10 ISEG students benefit from a collegiate and open-minded atmosphere, in which the United Nations' Sustainable Development Goals (SDGs) play a special role - this makes our rigorously trained students in quantitative subjects the influential and conscientious leaders that are prepared to Grab The Future.
ISEG faculty boasts the highest percentage of PhD-holders in the country, with the majority having been obtained in well-known international institutions. This is reflected in the international orientation of their research activities and in their teaching.
As the Portuguese school with most publications in prestigious international journals, ISEG's research is truly world-class. There are 6 research centers in the fields of management, economics, mathematics and social sciences.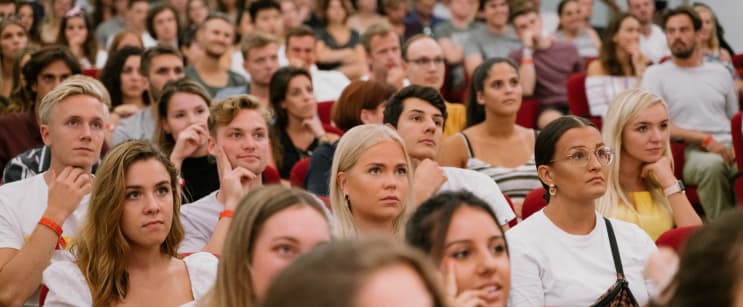 Our Students and Programs
ISEG is a multicultural environment in which approximately 20% of students are international. The School has over 4,500 students following a large number of degrees, of which quite a few are fully taught in English: 3 Bachelors degrees (Economics, Finance, Management), 10 Masters degrees, of which 4 are brand new in 2020. ISEG also offers 4 undergraduate and 11 masters programs taught in Portuguese, and 8 Ph.D. Programs, 6 in key fields of study, as well as 3 in partnership with other universities.
Students, researchers and employees alike are encouraged to constantly acquire new knowledge and face the challenges that make a better world.
Our Campus
The school comprises several buildings in a charming architectural complex. ISEG is housed in a former convent, beautifully converted to provide purpose-built modern facilities while preserving the character and features of the original buildings. More modern buildings complete the landscape. We strongly value cultural diversity and regularly promote extracurricular activities including workshops, concerts, exhibitions, sports, and community service, preparing our students for an ever-changing world. Our multicultural community gains strength and ideas from Lisbon's vitality! Lisbon is one of the most attractive cities in Europe where you can find tradition, romance, culture, entertainment and great emotions/experiences under long hours of brilliant sunlight and a beautiful moon.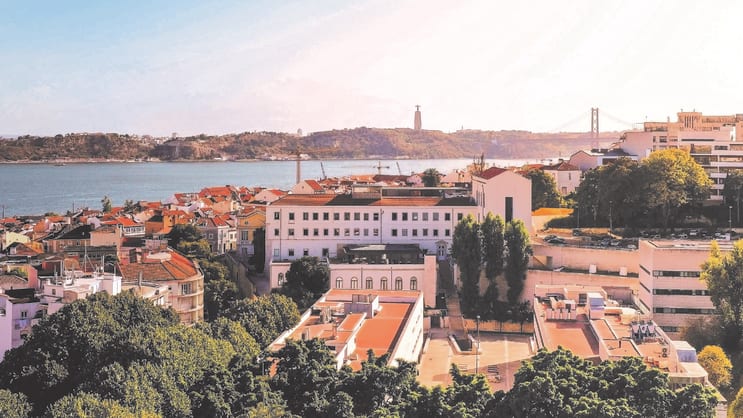 Alumni
ISEG is better known for its distinguished alumni – the school has created prominent entrepreneurs, leaders in business and in the economy since 1911 - and for the extraordinary spirit of collaboration and mutual understanding that is cultivated, in a school that promotes well-informed debate with a plurality of perspectives and methodologies.
The coming years in the life of ISEG will be challenging and exciting in the ambition to actively contribute to better organizations and to a better world – which has always been part of ISEG's DNA – and to be recognized internationally for doing so. Our research and our teaching will reflect this new ambition to be central to the city of Lisbon, to our country, and to the global world of those who have a cause and conduct business with a purpose.

Find out more about ISEG – the Lisbon School of Economics and Management by filling in your details and the school will contact you.
We look forward to meeting you at our Campus in Lisbon!
Locations
Lisbon
Address
Instituto Superior de Economia e Gestão
Rua do Quelhas, 6
1200-781
Lisbon
,
Lisbon
,
Portugal