Moscow State Institute Of International Relations, MGIMO
Home ›
Russia ›
Moscow State Institute Of International Relations, MGIMO

Seven Reasons to Join
MGIMO is the best Russian university for international students who are interested in studying foreign affairs. Its courses are modern, exciting and intellectually challenging. The University offers a broad range of undergraduate and graduate programs — from international law, political science, and economics, to journalism, business management, and energy policy. MGIMO is also committed to fostering an ever-evolving student body, curriculum, and campus life that continues to reflect its reputation as the most advanced place in Russia for understanding foreign affairs.
TRULY GLOBAL MGIMO was the first in Russia to join the European Universities Association, to fully integrate into the Bologna process, spelling out strict standards for European educational institutions. The University has been a Russian home for students from around the world for nearly 60 years, providing more than 6,000 international graduates the education to flourish as leaders in private and public sectors. In addition, MGIMO has close ties with the world's leading educational centers, across Europe, Asia, the Americas, and Africa. RICH IN COURSES MGIMO provides tuition for Bachelor and Master degree programs recognized around the world, with students gaining qualifications which are the keys to employment and academic opportunities internationally. When it comes to providing students with a context for understanding the contemporary world – be it through diplomacy, public administration, business, economics, law or journalism, not to mention the 53 languages it teaches each term – MGIMO is unique. RICH IN ACADEMIC STAFF MGIMO incorporates the best aspects of a classical university with those of a research center. This approach provides students with close access to more than 1200 faculty members, including 20 full members and members of the renowned Russian Academy of Sciences, a further 113 with a senior doctorate degree and 400 Ph.D. MGIMO's academia always takes pride in its students. HIGHLY COLLABORATIVE MGIMO community is traditionally welcoming to foreign students. Moreover, the University is constantly expanding its partnership network. Today MGIMO is successfully cooperating with more than 170 universities and institutions from more than 50 countries. We are able to offer programs that are taught in English full-time. The students may also choose from a wide range of dual-degree programs thus gaining two diplomas in their field of study.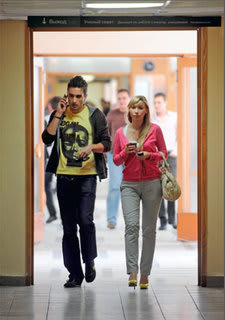 RENOWNED FOR RESEARCH MGIMO consistently ranks highly in university ratings. «2015 Global Go To Think Tank» report issued by the University of Pennsylvania represented MGIMO among worldwide research leaders, e.g. № 30 in Think Tanks with the Most Significant Impact on Public Policy and № 12 in Top Think Tanks in Central and Eastern Europe. Under the auspices of the Ministry of Foreign Affairs, MGIMO is an esteemed policy think-tank and forum for debate and analysis of international developments and current affairs, with its contributions to global analysis highly sought after. SIMPLY EXCELLENT The University is renowned for its academic excellence, meaning the brightest of Russia's future leaders are studying there now, with an increasing number of their counterparts from abroad. Each year Russia's best high school graduates compete for enrollment. At some programs – especially economics, law, and international relations – the contest reaches up to 50 applicants per student's position. MGIMO alumni community represents presidents, prime ministers, a few UN Deputies Secretary-General, the UNESCO Director-General, the OSCE Chairman, EU Commissioners, over 900 Russian and foreign ambassadors, 10 ministers of foreign affairs, over 30 fellows of the Russian and foreign academies of sciences. JUST GREAT MGIMO offers its students the broadest opportunities for creative self-accomplishment. Various student organiza­tions fill the calendar with additional social and sports events. Of course, MGIMO is in Moscow, one of the world's great cities, with an array of cultural and historical treasures, vibrant cul­ture and dazzling lifestyle events. It offers easy access to the diversity and energy of contem­porary Russia and its epic cultural heritage. MGIMO is a wonderful life experience for in­ternational students.
Locations
Odintsovo
Address
3, Novo-Sportivnaya
143007
Odintsovo
,
Moscow Oblast
,
Russia