Located in the heart of the metropolitan city of Jeddah, Dar Al-Hekma University is one of Saudi Arabia's leading teaching and research universities for young women. Since its opening in 1999, Dar Al-Hekma University is dedicated to endowing its students with the skills and knowledge they need to flourish and succeed in a rapidly changing world.
Our Mission
"Graduating Accomplished, Women, Leaders and Entrepreneurs"
The University
Since its establishment in 1999, Dar Al-Hekma University has positioned itself as the leading private, non-profit, higher education institution for young women in Saudi Arabia.
Dar Al-Hekma University comprises of four main schools: Hekma School of Business and Law, Hekma School of Design and Architecture, Hekma School of Health, Behavioral Sciences and Education, and Hekma School of Engineering, Computing and Informatics. The university offers master degrees in seven different majors. The degree programs offered by the University are developed in collaboration with international universities, and are fully licensed, and recognized by the Saudi Ministry of Education.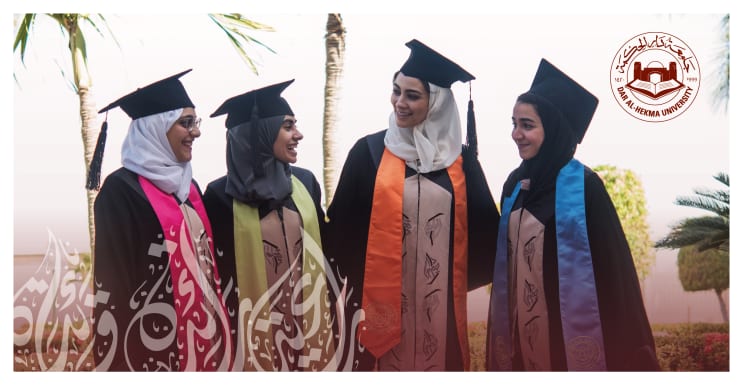 Why Choose Dar Al-Hekma University?
Accreditation:
Dar Al-Hekma University is accredited by the Ministry of Education of the Kingdom of Saudi Arabia (MOE), and the National Commission for Academic Accreditation and Assessment (NCAAA). Our degree programs are endorsed by the MOE and are designed to ensure that our students are accepted and recognized globally through their academics.
Excellence in Teaching and Learning:
Highly qualified, dedicated and passionate Saudi and expatriate faculty and senior administrators who provide the highest standards of academic services.
Academic Support Services:
We offer academic support services to students who are unable to manage their academic course loads due to learning difficulties.
Student Activities:
A wide range of student clubs and extra-curricular activities to enrich and support key areas of your personal, intellectual, spiritual, social, cultural and physical development are there for you.
Community Service:
We have a wide range of opportunities available for you to volunteer your time to a worthy cause whilst you study at Dar Al-Hekma. Community service is a requirement for all our graduating students.
Employability:
Our graduates are highly sought after by leading employers in various sectors. Our career and alumnae services are in constant contact with key businesses and organizations that advertise vacancies and attend our events and career fairs on a regular basis.
Locations
Jeddah
Address
Prince Majid Road
22246
Jeddah
,
Makkah Province
,
Saudi Arabia