Comenius University in Bratislava, Faculty of Pharmacy
Home ›
Slovakia ›
Comenius University in Bratislava, Faculty of Pharmacy
Comenius University in Bratislava, Faculty of Pharmacy
The Faculty of Pharmacy is part of the greatest, oldest and outstanding University in Slovakia.
Comenius University in Bratislava is a modern European university which in 2019 was celebrating its 100th anniversary. It is the only Slovak university to be regularly ranked in the international rankings of the best universities in the world. With thirteen faculties, it offers the widest selection of study programs (over 800) at three levels, and several of these study programs are the only ones of their kind offered in Slovakia. There is a wide range of areas of human knowledge to choose from when studying, be it in medicine, the humanities, and social sciences, the natural sciences, mathematics, theology, and much more.
Comenius University is a research institution that runs hundreds of domestic and international research projects. As a result, many of the students engage in important research during their studies and can actively participate in projects, grants, and professional internships (including abroad).
Every year Comenius University sends the highest number of students abroad out of all Slovak universities, and it receives the most international students, including from such places as Germany, Norway, Greece, Iran, Austria, and Iceland.
Facts
About 1 500 students, of which about 15 % international students from different countries
11 specialized teaching departments
2 own teaching pharmacies that serve as community pharmacies as well
New laboratories and lecture rooms with up-to-date equipment
Highly qualified teaching staff with long-standing national and international teaching and research experience
All levels of Pharmacy education, including post-graduate PharmD and Ph.D. programs, specialization, etc.
International exchange programs, including bilateral contracts with 30+ partner universities in Europe, Asia, and the USA
Scientific Centre of Excellence, central scientific laboratories, various research projects
A large Medicinal Plants Garden
Central Library
Gym and fitness equipment
Own canteens and cafeterias
Prestige
The Comenius University Faculty of Pharmacy is the only faculty of its kind in Slovakia. The faculty raises original pharmacy professionals by integrating knowledge from natural sciences and medicine as well as specific pharmaceutical sciences.
Tradition
Slovak pharmaceutical university studies have been existing for more than 70 years and more than 11 000 students graduated from the Faculty of Pharmacy in Bratislava.
Accreditation
The study program Pharmacy fully complies with the European Union Directive 2005/36/EC of the European Parliament and of the Council on the recognition of professional qualifications.
Education
The graduate from the study program Pharmacy is defined by high-level knowledge and practical skills in chemical, biological, medical and, particularly, pharmaceutical disciplines. The graduate has deep knowledge of everything that happens to a medicinal product in the human organism; its effects and adverse effects; as well as the health and social aspects of the use of medicinal products. The graduate masters pharmaceutical technology, pharmaceutical, chemical, microbiological, biological trials on medicinal products for human use. The graduate can evaluate scientific data on medicinal products and provide related information based on such proficiency. The graduate has adequate knowledge of legal and other requirements related to pharmaceutical practice. The study program fully complies with the Directive 2005/36/EC of the European Parliament and of the Council on the recognition of professional qualifications.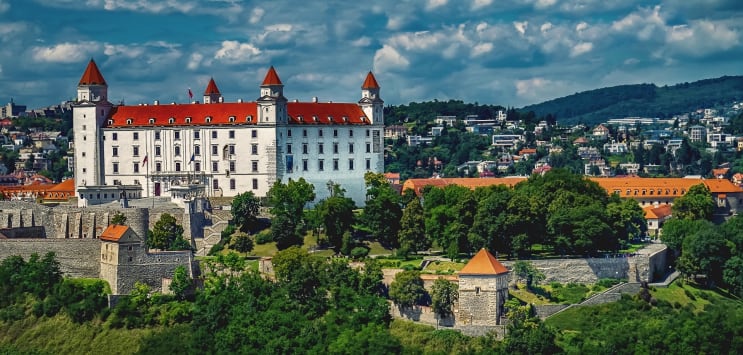 Locations
Bratislava
Address
Odbojárov 10
SK-83232
Bratislava
,
Bratislava Region
,
Slovakia
Programs
This school also offers: