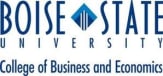 Boise State University College of Business & Economics
Home ›
USA ›
Boise State University College of Business & Economics
The College of Business and Economics at Boise State University is the primary emphasis business school in Idaho. With over 100 faculties and staff, over 3,000 students, and delivery sites throughout Southern Idaho, the College has undergraduate degree programs in accountancy, economics, finance, information technology management, international business, management, marketing and supply change management.
On the graduate level, the College offers Master of Science degrees in accountancy, and accountancy with a taxation emphasis, as well as an Executive MBA (EMBA), Masters in Business Administration (MBA), MBA-ITM (Information Technology Management), and a Graduate Certificate in Supply Chain Management.
We also serve as an educational resource through the Idaho Small Business Development Center, Tech Help, and the Idaho Council on Economic Education.
The College of Business and Economics provides high-quality accessible AACSB-International-accredited education.
We create, disseminate, and apply innovative knowledge to support economic and business development, primarily in Idaho and the region.
Our students, staff, and faculty engage our chief constituencies: communities, businesses (profit and not-for-profit), organizations, and governmental entities.
Locations
Boise
Address
1910 University Drive

83725
Boise
,
Idaho
,
USA