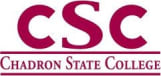 Chadron State College Business Academy
Home ›
USA ›
Chadron State College Business Academy
Mission Statement
The faculty of the Business Academy at Chadron State College is committed to preparing students for challenging careers in the rapidly changing, highly technological, and culturally diverse world.
The fundamental purpose of the Department is to enhance the student's capacity for learning by combining excellence in teaching with appropriate coursework and classroom environments that emphasize critical thinking, human relation/communication skills, theoretical, technical and professional skills, and a lifelong learning environment designed for creative problem solving/decision making.
Overview
We pride ourselves on the delivery of Quality programs with a "personal touch". Chadron State College was recently recognized by the 2002 Newsweek/Kaplan College Catalog as one of 26 "schools that offer a high level of individual attention from faculty."
To paraphrase a quote from Robert Greenleaf in his book Servant Leadership, "we are in the business of growing people--people who are stronger, healthier, more autonomous, more self-reliant, and more competent".
Locations
Chadron
Address
1-800-CHADRON
1000 Main Street



69337
Chadron
,
Nebraska
,
USA
Programs
Currently no programs to display
Please refine search above, check out our popular categories below or perform a keyword search.
... or simply by choosing your degree: