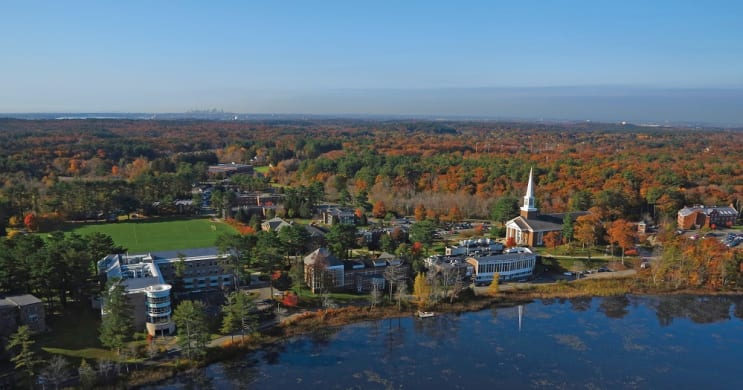 Education is transformation. At Gordon, we take it personally. It is our privilege, not just our responsibility, to create unique academic, co-curricular and relational milestones in the lives of our students.
The Gordon experience creates a context for knowledge gained, provides opportunities to apply what is learned and refines a broader purpose—a vocation or calling—in each student's life.
Gordon College strives to graduate men and women distinguished by intellectual maturity and Christian character, committed to lives of service and prepared for leadership worldwide.
Our Mission: Timeless—and Timely
As an intentional Christian community, Gordon serves students from a wide range of backgrounds who embrace the College's broadly evangelical identity and desire an experience that combines an exceptional liberal arts education with an informed Christian faith. We retain a commitment to integrating faith and learning, a heritage once embraced by many institutions, such as our neighbor in Boston, Harvard University—the first institution of higher learning in the United States.
Gordon also remains committed to the power of a liberal arts education to hone qualities most sought by employers—the ability to think holistically, reason analytically, communicate persuasively and—even more importantly—to act morally.
Our primary responsibility is to prepare students for the long haul, to make them spiritually, intellectually, relationally and professionally ready for a lifetime of growth—from the first job out of college and beyond, into fields not yet existing. In a time when individuals are likely to switch occupations (not just employers) over the course of a career, a strong liberal arts education offers flexibility and agility.
Our mission is the foundation of all we do as we inspire the next generation toward faithful leadership for the common good.
Gordon College is one of the nation's premier Christian colleges and located just north of Boston. We offer students extraordinary access to leading-edge opportunities for intellectual, professional, and leadership development to address the increasingly complex challenges of a global society. Gordon stands apart from other outstanding institutions in New England by combining an exceptional education with an informed Christian faith.
Accreditation
Gordon College has been accredited by the following organizations, in recognition of the excellence of our programs after rigorous review:
NEASC: New England Association of Schools and Colleges
NASM: National Association of Schools of Music
CSWE: Council on Social Work Education
Department of Education of the Commonwealth of Massachusetts
Affiliations
CCCU: Council of Christian Colleges and Universities
CCC: Christian College Consortium
The Annapolis Group
CIC: Council of Independent Colleges
NAICU: National Association of Independent Colleges and Universities
AICUM: Association of Independent Colleges and Universities of Massachusetts
NECCUM: Northeast Consortium of Colleges and Universities of Massachusetts
National Collegiate Athletics Association (Division III)
Student Life
The heart of Gordon is our robust community of students—living, learning, serving and growing alongside one another. We care about making sure you thrive in every aspect of your Gordon experience, and that you do so in the company of good friends and a caring staff. Here, you have opportunities to lead your fellow students, make a difference locally and globally, deepen your faith and expand your horizons.
Locations
Wenham
Address
Gordon College, 255 Grapevine Road,
01984
Wenham
,
Massachusetts
,
USA