Nova Southeastern University, Shepard Broad College of Law
Home ›
USA ›
Nova Southeastern University, Shepard Broad College of Law
Read more on the school's website
Become Part of the Legal Community at NSU Law
With degree and certificate programs for law students, paralegals, practicing lawyers, and professionals expanding their legal knowledge, Nova Southeastern University (NSU) Law equips all students with skills needed for professional success – today, tomorrow, and for decades to come.
NSU is located in Fort Lauderdale, Florida, USA, a gateway to international law firms, corporate headquarters, government and nonprofit organizations, trade, and entrepreneur opportunities. The NSU edge will help you focus your passion to prepare you to succeed in your career, your community, and your life.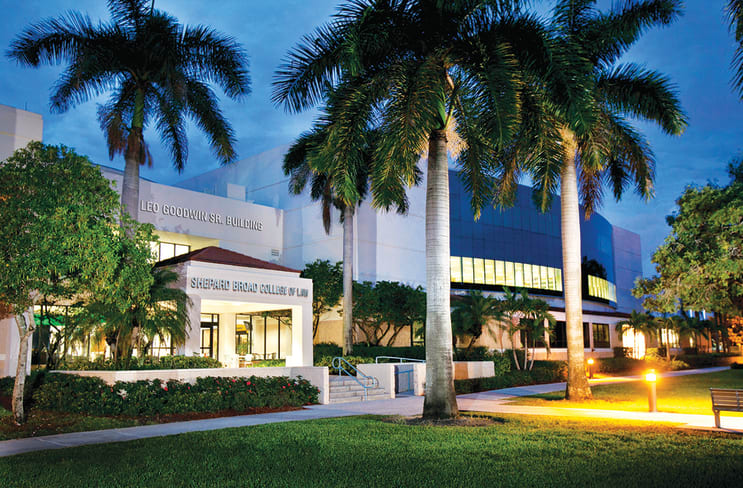 NSU Online offers six diverse graduate programs
Master of Laws (LL.M.) for practicing attorneys
Master of Science in Law Education Law
Master of Science in Law Employment Law
Master of Science in Health Law
Master of Science in Law Law & Policy
Paralegal Certificate Program
18 Years Experience in Online Education.
With 18 years of experience in online education, the NSU Law faculty are true mentors and role models that challenge and inspire you. Their expertise and competence in established and emerging areas of law provide the bridge between tradition and evolution in the legal profession. NSU Law faculty and experienced attorneys teach all NSU LL.M., Master of Science in Law and Paralegal Certificate Program classes.
Achieve Your Goals on Your Schedule
NSU Staff is here to insure your transition to online student is smooth. The objective is to make it as easy as possible for you to achieve your goals via immersive study in the discipline of your choice. That's why Nova Southeastern University's Shepard Broad College of Law has chosen not to require GRE or LSAT exams for admission to its online Masters programs.
Our curriculum has been created for busy professionals, who also have home and family responsibilities. The targeted online courses will help you earn your Master of Science in Law in as little as two years, at the convenience of your own schedule, from the privacy of your home or office. The LL.M. and Paralegal Certificate programs can be completed in one year with full time study.
NSU Shepard Broad College of Law also offers degree programs on its Fort Lauderdale, Florida, USA campus including:
Accelerated Juris Doctor for foreign lawyers – 2 Years
Juris Doctor Full Time – 3 years
Juris Doctor Part Time – 4 years (evening classes)
Bachelor of Science Paralegal Studies – 4 year
Law Science and Technology undergraduate minor
Locations
Fort Lauderdale
Address
3305 College Ave, Davie, FL, United States
33314
Fort Lauderdale
,
Florida
,
USA