Plymouth State University is a regional comprehensive university offering a rich, student-focused learning environment with an enrollment of approximately 4,300 undergraduate and approximately 3,000 graduate students. The 170-acre campus offers a New England classic look combined with up-to-date facilities including the Lamson Library and Learning Commons; the Boyd Science Center; Langdon Woods, a LEED certified, environmentally conscious residence hall; and PSU's newest addition, a Welcome Center and Ice Arena.
Founded in 1871 as a teacher training school, Plymouth State University is part of the University System of New Hampshire and accredited by the New England Association of Schools and Colleges.
Located in central New Hampshire at the gateway to the White Mountains and the Lakes Region in the quaint town of Plymouth, PSU is within minutes of ski resorts, lakes, and parks and only two hours from Boston.
PSU Facts
History
Founded in 1871 as a teacher training school
A part of the University System of New Hampshire
Graduate programs began in 1948
Student Profile
4,105 undergraduate students
2,088 male students
2,017 female students
1,346 First Year students
20 average student age
2,130 graduate students
Faculty Profile
193 professors and instructors
84% hold a doctorate or terminal degree in their field
16:1 student-to-faculty ratio (includes UG & GR)
Campus Profile
Accredited by the New England Association of Schools and Colleges
52 undergraduate majors and 60+ undergraduate minors
more than 75 graduate degree and certification programs in the arts, sciences, business, and education. Degree programs include the Master of Arts, Master of Arts in Teaching, Master of Business Administration, Master of Education, Master of Science, Certificate of Advanced Graduate Studies, and Doctor of Education
21 average undergraduate class size
345,000+ volumes in our library
80+ student clubs and organizations
NCAA Division III — 24 athletic teams
School Colors: Green and White
School Mascot: Panthers
170 acres and 47 buildings
History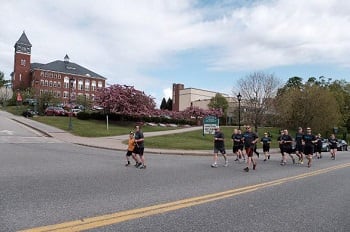 Plymouth State University evolved from Holmes Plymouth Academy, which dates back to 1808 as a pioneer institution for teacher training. As early as 1836, the Reverend Charles Brooks lectured before the legislature of New Hampshire and throughout the state on the subject of normal schools. An "act for the establishment and management of a state normal school for the better training of teachers" was passed in 1870.
The board of trustees located the New Hampshire State Normal School in Plymouth in 1871; the town of Plymouth had offered the Holmes Plymouth Academy and other support to the new school. In 1874, at least 20 years before the system was attempted in any other normal school in the country, the grade and high schools of Plymouth had been organized as training schools under the supervision of the normal school. A new school building (Rounds Hall) and a new dormitory were built in 1890.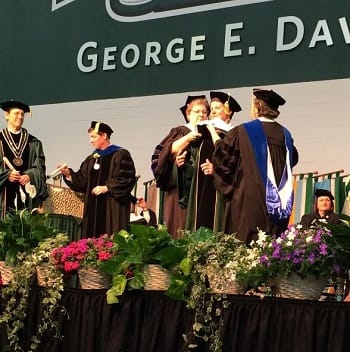 In 1911, Dr. Ernest L. Silver, with experience as a superintendent of schools and as principal of Pinkerton Academy, began a 35-year administration of the school, which saw the school grow to maturity, both professionally and physically. Poet laureate Robert Frost, who taught in Rounds Hall and lived on campus from 1911 through 1912, wrote of Dr. Silver on the occasion of the 75th anniversary of the institution and the 35th year of Dr. Silver's presidency in 1946: "We all owe Mr. Silver a debt of gratitude for the large and liberal way he encouraged our individualities both as teachers and students under him. I went to Plymouth with him when he began his presidency and I have kept up friendly interest in the whole 35 years of his unusually long administration. It warms the heart with reassurance to look on at anything that persists so successfully in this world of broken pieces."
In 1927, the American Council of Teacher Colleges evaluated Plymouth Normal School and rated it a Grade A teachers college—a rating it has held ever since. In 1939, New Hampshire's state legislature officially recognized the increased stature of the institution by changing its designation to Plymouth Teachers College and, in 1963, to Plymouth State College of the University System of New Hampshire. In 1948, the College offered its first graduate degrees. In 2003, the state legislature changed the institution's name to Plymouth State University in recognition of the range and depth of its programming.
Today, Plymouth State University is a regional comprehensive university offering a rich, student-focused learning environment for undergraduate, graduate, and non-traditional students. PSU offers 50 undergraduate majors and 70 minors. In addition to outstanding programs in education, business, humanities, arts, and the natural and social sciences; centers and institutes for meteorology, the environment, New Hampshire studies, and rural partnerships are hallmark outreach programs.
Locations
Plymouth
Plymouth State University
Address
17 High Street
Plymouth
,
New Hampshire
,
USA