University of North Dakota College of Engineering and Mines
Home ›
USA ›
University of North Dakota College of Engineering and Mines
Read more on the institution's website
About UND
The University of North Dakota has always been ahead of its time.
Founded in 1883, six years before the state itself was established, UND gave North Dakota its name when the former Dakota territories separated into two distinct states. Today, UND is a busy 521-acre campus, the state's largest. We've emerged as an innovator in engineering, medicine, aviation and unmanned aircraft systems.
Location: Grand Forks, North Dakota
Enrollment: 13,581
Employees: 2,369
Accreditation: Higher Learning Commission
Carnegie classification: RU H (Research Universities - High Activity)
Key Facts About UND
225+ Fields of study, including bachelor's, master's and doctoral degree
38% Increase in 4-year graduate rate over the past 3 years
24 Average class size
17 NCAA Division I athletics teams
13% Lower tuition and fees than similar institutions in the 11-state region
240+ Student clubs and organizations
4# Most military-friendly school in nation
Data provided by University Analytics & Planning.
Best Value University
Every accredited college or university offers education, but not every school prepares students to make a real impact on the way UND does. UND is increasingly regarded as one of the top academic and research institutions in the nation. In fact, the National Science Foundation ranks UND #151 in the nation.
We consistently rank among the best for educational quality, affordability and career outcomes. Search our database of 225+ academic programs to find what interests you.
Explore Campus
Few times in history has UND experienced such extensive physical change. Our Chester Fritz Library is undergoing major renovations, as is the historic home of UND's first president, which will become an inviting new engagement center for graduate students. Work also is underway on a brand-new Memorial Union.
The Engine of Opportunity
As the only university in the state with graduate, law and medical schools, UND continues to lead in educating the region's doctors, lawyers, engineers, scientists and business professionals.
3,126 Secondary jobs created from UND business activity
$300M Annual state-wide economic impact of UND research
"Far and away the best prize that life has to offer is the chance to work hard at work worth doing."

U.S. President Theodore Roosevelt
About UND College of Engineering & Mines
We educate world-class leaders in computer science, engineering and geology.
Knowledge to Lead. Skills to Impact.
Our graduates make a difference, are competitive in a global market and contribute to our state, nation and the world. UND CEM graduates can expect a range of opportunities in high-demand careers.
Our Programs
The College of Engineering & Mines has seven departments, with several certificates majors, minors, combined degrees and graduate programs. Many of our programs are available online and recognized by U.S. News & World Report as top online engineering programs.
We are extremely proud of our students, alumni and our nationally accredited programs. We pride ourselves on the first-class facilities and technology available for students to use.
Real Research. Real Results.
We are home to an array of centers and institutes, where engineering researchers are bridging disciplines and sharing insights at the farthest edge of discovery. Our advanced student training and our deep relationships with key industry partners further strengthen our stature as intellectual leaders.
Our Vision
Our vision is founded in six building blocks.
Graduates: We will produce graduates who will advance society, be competitive in a dynamic global market and contribute to the economic development of North Dakota, the nation and the world.
Education: We will provide students with a personalized education fostering innovation and emphasizing technical, leadership and entrepreneurship skills.
Research: We will be internationally recognized for excellence in research fostering discovery, serving societal needs and stimulating technology transfer.
Work Environment: We will foster an inspiring, supportive, high-performance and team-based work environment.
Community: We will engage the community to promote engineering and innovation, inspire young minds, help the regional economy thrive and display civic responsibility.
Alumni: We will promote the accomplishments of our alumni, engage them in school initiatives and serve as a resource for the advancement of their success.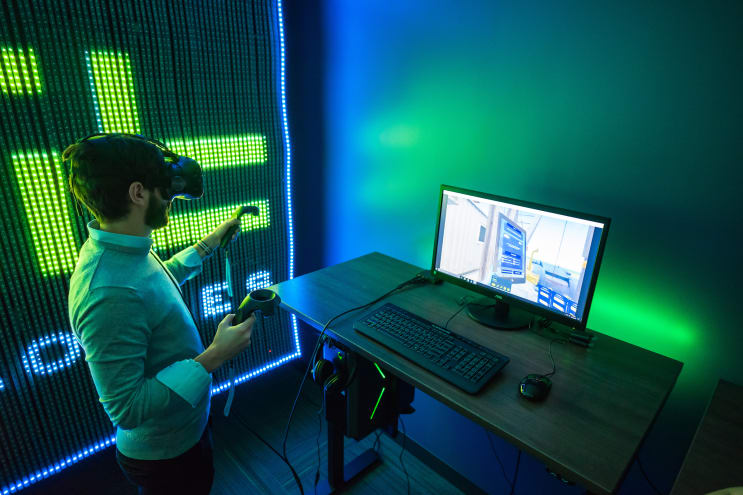 Accreditation
All undergraduate engineering programs, as well as computer science, are accredited by the Engineering Accreditation Commission (EAC) of ABET and supported by dedicated faculty, small class sizes and well-equipped laboratories.
Online Programs
Our online delivery mode offers students an opportunity to complete the majority of their undergraduate degree coursework in our accredited undergraduate programs online.
In most programs, students are required to complete their laboratory requirements through accelerated summer courses at UND. Since our online students experience the same lectures and coursework requirements as our on-campus students, we consider this educational experience to be essentially equivalent and online graduates receive the same accredited degrees as on-campus students.
Locations
Grand Forks
Address
College of Engineering & Mines,
Upson II Room 165,
243 Centennial Dr Stop 8155
ND 58202-8155
Grand Forks
,
North Dakota
,
USA